Mark Wardle, Principal
Mark has led Callywith College through its pre-opening year and as Director of Curriculum at Truro and Penwith College for 7 years, Mark has played a key role in the Callywith project from its initial inception and brings 17 years of post-16 experience and the Truro and Penwith College experience to Callywith.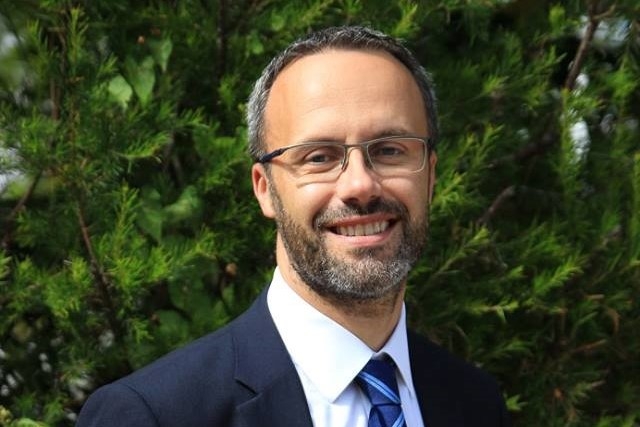 What is your background in education?
I worked for Truro and Penwith College for seven years as part of the senior management team as Director of Curriculum. Prior to that, I worked in range of post-16 institutions, including sixth forms in Leeds and Eastbourne as well as a further education College in Hastings.
What inspired you to pursue a career in education?
I studied law at Reading University and while I enjoyed the study of law, I didn't want to take it forwards as a career. My mum was a teacher and she seemed to really enjoy her work and was really passionate about it, so when I completed my degree I decided to undertake a PGCE focused on further education and here we are 17 years later.
Why does Cornwall need Callywith College?
The vision for Callywith is very clear. It's about raising life chances for young people in north and east Cornwall. That includes a significant number of young people that travel to Truro College every day, undertaking journeys in some instances for up to four hours each day. Callywith College brings the quality and outstanding provision that those young people at Truro College experience, closer to them.
What are some of the highlights?
Students have access to a very broad curriculum, 28 A Levels and 11 Extended Diplomas, and they experience very high quality, purpose-built, post-16 facilities, and benefit from some of the best post-16 teaching available, all built on the formula and foundations of Truro and Penwith College.
What is your primary focus?
My primary focus has been to ensure that the students get the experience they expect and deserve, and that they enjoy their college experience as much as the students that go to Truro and Penwith do.
What is your key message to potential students?
If you live in north and east Cornwall and you want to experience exceptional teaching and learning in a brand new exciting environment, Callywith is for you.
We have state-of-the-art science labs, a purpose built theatre and a 3G sports pitch. The College is designed by the architects responsible for Truro and Penwith College, so they are utilising 23 years of experience of working on buildings for young College students to develop the Callywith campus.
What is the overall aim of Callywith College?
Our aim is a vibrant, dynamic learning community in which students achieve their full potential with outstanding outcomes. College can set you up for the rest of your life, providing the opportunity to study courses that interest you and giving you the control over your future ambitions, whatever they may be.