All students thrive as Callywith celebrates exceptional first results
The first ever cohort of students completing their Level 3 (A level and equivalent) studies at Callywith College in Bodmin have been awarded some truly exceptional grades.
Students secured a pass rate of 100% on all of the 27 A-level courses with 83% scoring grade A*-C, higher than the national A* - C pass rate of 76%. Additionally, those students completing Extended Diplomas secured a 100% pass rate across these advanced vocational courses.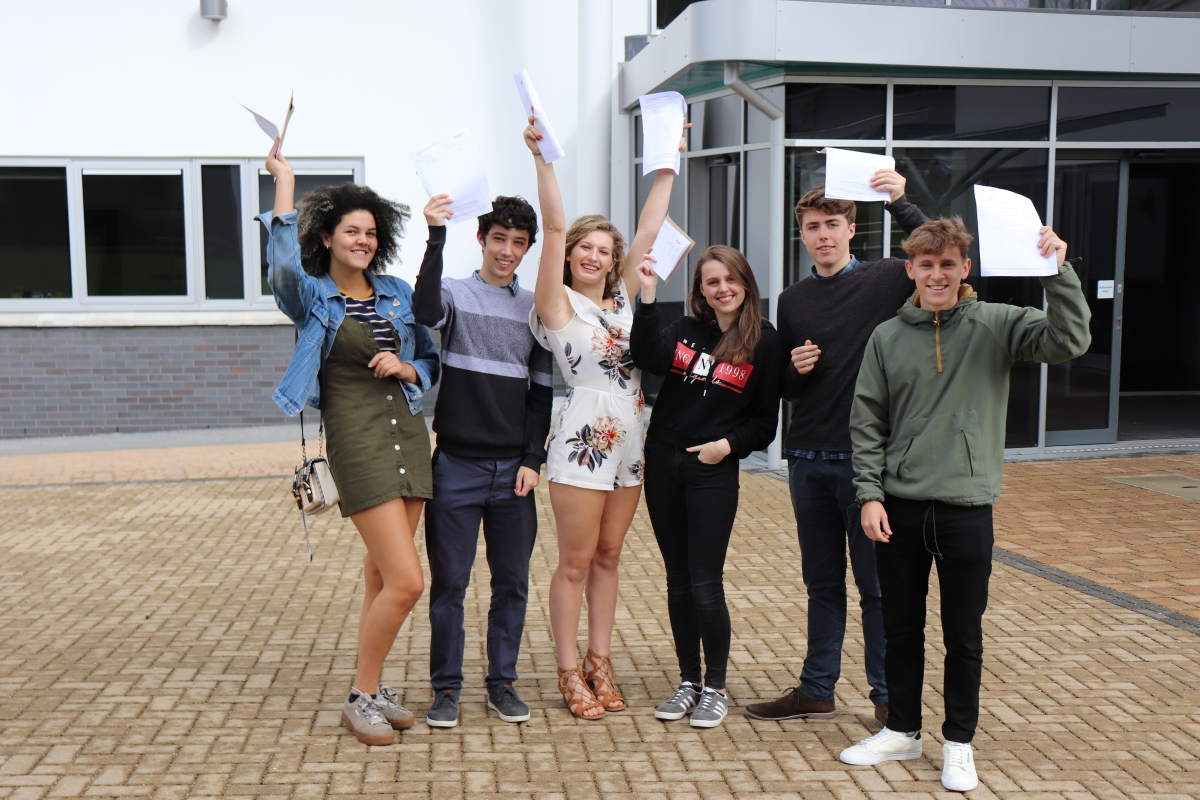 This achievement by the College and its students is all the more impressive when you consider the remarkable student retention figures of over 99% which means that nearly every single student who started an A-level or Extended Diploma programme stayed the course and successfully completed them in 2019. This provides a huge endorsement of the College's pastoral support systems which underpins its high quality academic provision.
With over 450 individual A-level entries this year, and over 750 anticipated for next year, Callywith College is on course to become the second largest provider of this qualification in Cornwall after its partner institution Truro and Penwith College. This first set of results confirms that the outstanding educational experience offered by Truro and Penwith College has been replicated at the state-of-the-art Callywith campus in Bodmin, serving North and East Cornwall.
With all Level 3 courses recording 100% pass rates, there are success stories across the board, with subjects including A-level Biology, Chemistry, Maths, Spanish, Photography, Fine Art, Geography and Psychology all of which saw over than 50% of students achieving the top A*-B grades. Notable achievements were also evident on Extended Diplomas including Science, Health and Social Care, Art and Design, Creative Media and Sport. This success has rewarded the vast majority of students with not only impressive grades, but excellent progression to their first choice destinations for university study, apprenticeships, or into employment.
Speaking as students attended the Callywith College campus to collect their results, a delighted David Walrond, Chair of Trustees said: "Today's excellent results, on Callywith's first ever full Results Day, are a wonderful tribute to all our students and staff. They are outstanding, among the best nationally, and well ahead of all local and England averages."
These learner outcomes fully justify the confidence that Department of Education put in Truro and Penwith College to establish a new offer for the wide area of Cornwall the college now serves. It is another milestone in Callywith's remarkable story. I and all college Trustees could not be prouder of our learners and their teachers."
Principal Jon Grey said: "When these first ever Callywith students walked through the doors nearly two years ago we, as staff, gave them an undertaking to work with them and for them to achieve their full potential, whatever their previous experience or attainment in education. These great results confirm that the whole staff team here have delivered on that promise. I am so pleased that the students' hard work has been rewarded."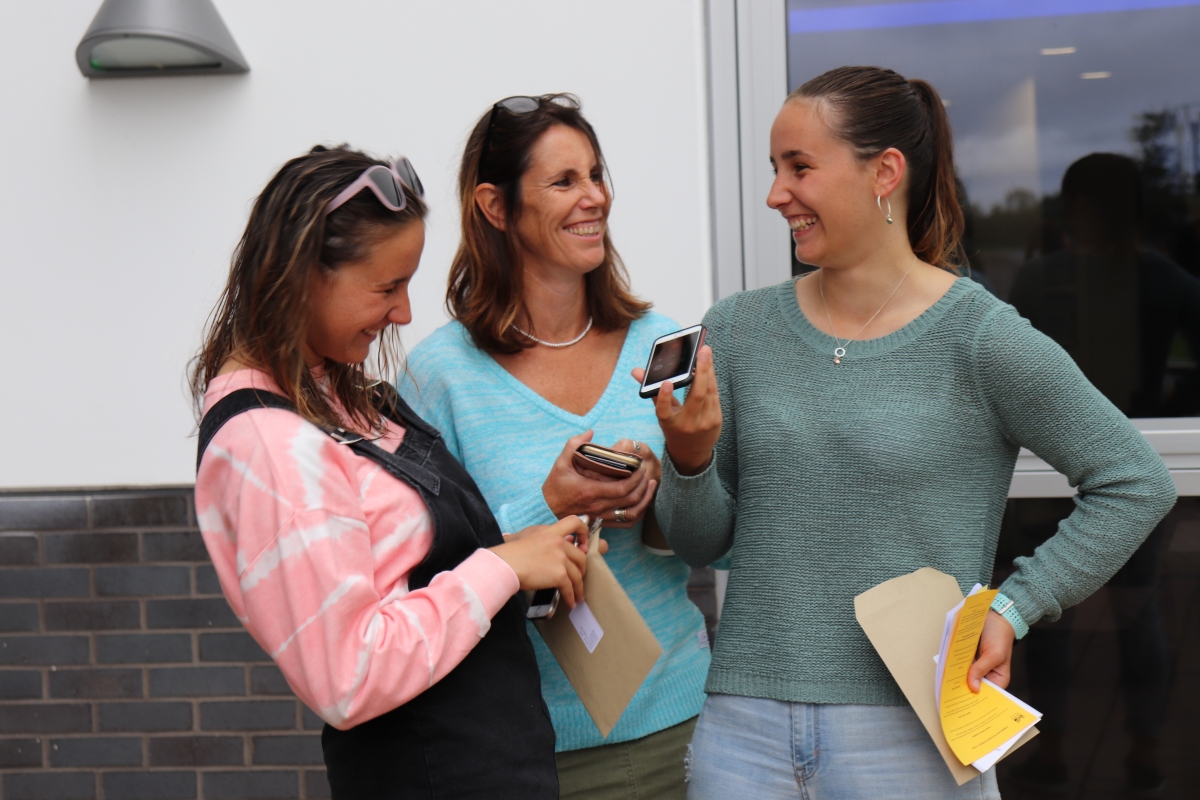 There were many outstanding individual success stories for students.
A Level student Rebecca Langford from Bodmin couldn't believe it when she opened her envelope to see A*, A*, A next to her subjects, "I'm completely shocked, but really, really happy and a little bit overwhelmed, I can't believe it!"
"My tutor Lisa played a huge part in my application to Oxbridge and she really encouraged me to do it even when I was reluctant. All off my lecturers have been really supportive in pushing me to do the best that I could and to fulfil my potential. I'm so pleased I came here, it's fulfilled all of my expectations and more, it's been brilliant!"
Rebecca is now looking forward to studying a degree in Education in Psychology and Learning at Cambridge University.
Neo Cass, from Liskeard who is going on to study Computer Science and Maths at the University of Bath, was delighted to achieve A*, A, A in his subjects. Neo couldn't speak highly enough of the staff that have helped him to achieve his results: "The lecturers, senior management and support staff at Callywith have all given me excellent academic, emotional and personal support throughout my time here. My Physics Lecturer Dave's jokes got me through the day, my English Lecturer Tracey helped me be less harsh on myself and I don't think I would have liked maths as much as I did without Garry as my lecturer."
Cali-Mai Willett from Saltash achieved straight A's in Biology, Chemistry and Maths and is going on to study Medicine at the University of Bristol. On top of her studies, Cali-Mai was also a member of the Medics' Academy.
"I can't recommend the Medics' Academy at Callywith enough to anyone considering a medical application, it's so helpful in both making a strong application and deciding if medicine is for you. It's a massive achievement for me to get into medical school and I'm really excited about starting in September.
Cali-Mai couldn't speak highly enough of the support she's received at the College: "I've never encountered more supportive teachers who know their subjects inside out. The College has a great support system and I always felt looked after and valued within the College."
Ian Lamb from Tintagel was delighted to achieve straight A's in Economics, History and Law.
"I feel absolutely fantastic to receive three A's, I really didn't expect it!
"The College atmosphere has always been fantastic since coming to Callywith. My teachers have always been brilliant at engaging me and getting me interested in the subjects I am studying.
"The Student Services team have also been wonderful and very supportive. Staff of all levels - my tutor, lecturers, the senior management team and the Principal included - have always been very approachable and I have always been able to talk to them about my problems. The support from the Health, Wellbeing and Sport programme staff has also been outstanding."
A Level students weren't the only ones celebrating their success. Megan Chadd from Wadebridge achieved a triple distinction* in BTEC Business (the highest possible grade for this qualification) and is delighted to have secured a place to study Business Management at the University of Gloucestershire. She said: "I'm really pleased with my achievements today, all the staff at Callywith have been really supportive and helpful and even gave up their free time to teach me everything I needed to know again for my re-sits. Assistant Principal Lucy, also really helped me when I wasn't feeling my best and was willing to sit with me until I felt better.
"I've made so many new friends at Callywith and doing the BTEC course has meant I have become really close to my class. There are so many opportunities here, the Academic Academy and EPQ (Extended Project Qualification) has really helped boost up my application for uni. I was also a student ambassador and helped out at Callywith open events. I really enjoyed my time here, so talking to prospective students about it and encouraging people to come here was quite easy for me!"
Assistant Principal Lucy Maggs said: "One of the great pleasures for us all today is seeing what these results now actually mean for our students in terms of their next steps, whether into the university courses of their choice or into the various employment opportunities they were seeking. A major factor in this is the all-round support we give to students at Callywith, not just as a specialist post-16 provider in the classroom, but support to them as individuals in this crucial, distinct phase of their lives. We have built a real college community here and today it has so much to celebrate."