Learning Support
Many students find they need support with their course at some point. Visit the Learning Centres in Temple or Garrow to discuss any support needs you might have or to find out if you are entitled to support in your lessons and exams.
Learning Services
The College offer support with all aspects of academic study skills, including everything from time management and organisation, through research and essay writing, to revision and exam technique. Alongside running a programme of drop-in sessions to deliver advice and guidance with key skills, we provide one-to-one or small group tuition. We can also help with individual pieces of work across most subjects.
The Learning Services team are here to ensure your transition from GCSE into post-16 education is as smooth as possible, and that you feel supported and confident in your studies. Whether you are feeling overwhelmed by deadlines, struggling to write an essay, experiencing difficulty planning a piece of coursework or finding it hard to prioritise your workload, we can help. No matter is too trivial!
You can pop in to any one of our Learning Centres located in Garrow and Temple buildings to find us and have a chat about how we can support you, or simply ask your teacher or tutor to refer you.
GCSE & Functional Skills
All students yet to achieve GCSE Grade 4 or above in English and/ or Maths will have to study an appropriate level course as part of their programme of study at College. This will be either GCSE or Functional Skills and will be determined by previous qualifications and an initial assessment. For students who have already achieved a Grade 4 or above there are opportunities available to improve to a higher grade. In many cases, progression opportunities will be dependent on achievement of English and Maths. Students can access this type of programme by speaking with their Personal Tutor.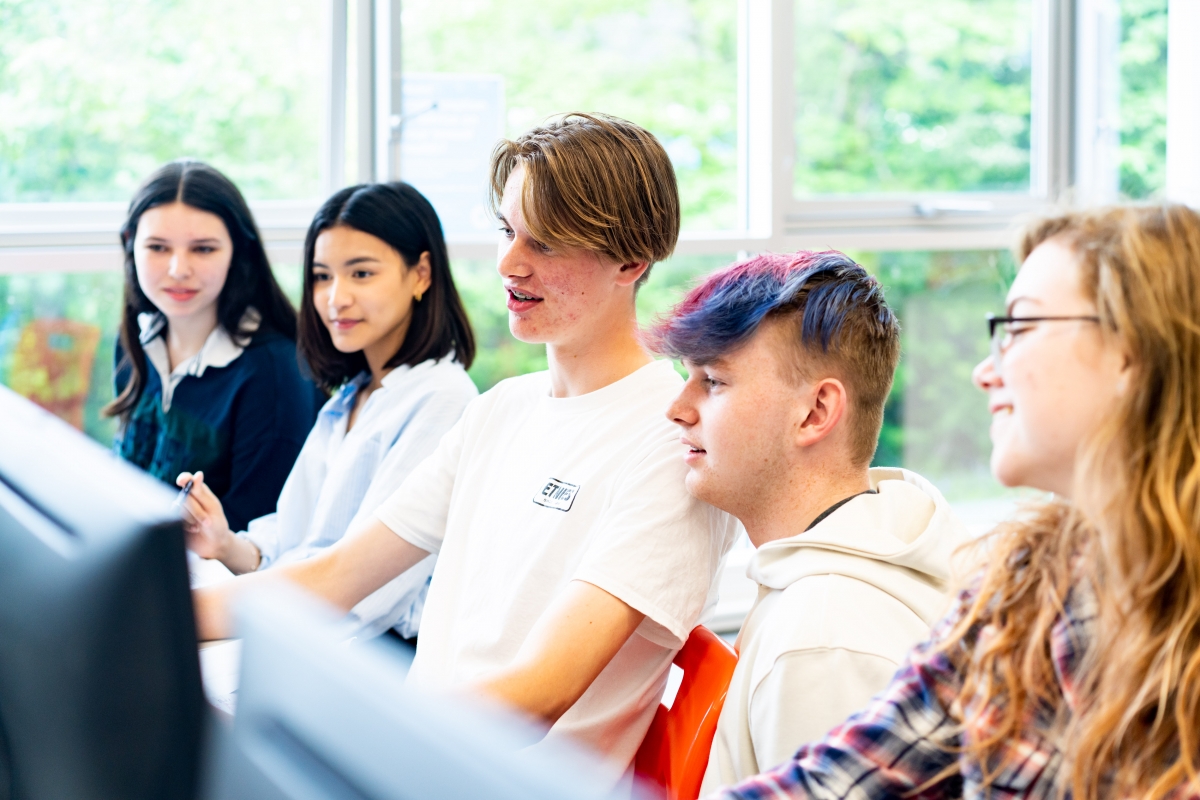 Learning Support
Many students find they need support with their course at some point. Visit the Learning Centre in Temple to discuss any support needs you might have or to find out if you are entitled to support in your lessons and exams. The Learning Centres are a learning resource provided for all students; these multi-purpose, open access environments enable students to study at a pace and style appropriate to their needs. Each Learning Centre is equipped with computers and printers and staffed by friendly learning assistants who can help you with general queries, finding/accessing appropriate resources, and IT support. These are interactive, comfortable working environments so feel free to pop in to discuss what's available in more detail, we are here to help.
Tutor Support
At Callywith College you will get to know many members of staff and other students easily. You will be assigned a Personal Development Tutor who you will see weekly. Your tutor will get to know you well and will usually be the first person you go to if you need advice or help.

Students cover a range of topics during weekly tutor time sessions to support them with their personal, social, health and educational development and in becoming well-rounded and resilient young adults.

Tutor time is a safe space in students' week where they can learn about, discuss, and explore important topics that they may not cover in their main programme of study.

Topics include student finance and personal finance, exam stress, apprenticeships and higher education, healthy relationships, body image and awareness, moving out of home, learning to drive, mental health, gender and sexuality and climate change to name a few.
Learning Centres (Libraries & IT Suites)
The College has three Learning Centres across the campus. These are areas where traditional printed resources sit alongside our expanding electronic provision. The open-access computers in each IT suite offer a wide range of software and there are staff available to support your use of the facilities.
Necessary books are provided by the College and must be returned in good condition. Students are asked to pay a resources deposit that will be refunded if all text and library materials are returned. The Learning Centres hold relevant collections of books, journals, DVDs and CDs, and there is increasing electronic access to books, as well as online journals and databases via the College Intranet Virtual Learning Centre.
Information Technology
The College has a large number of computers capable of using an extensive range of software, available for students to use on a drop-in basis. Students are expected to improve their awareness of, and skills in, information technology (IT). There are College IT champions who can advise you in your use of IT. The College has campus-wide Wi-Fi, which enables students to access the Internet and complete College work using their own devices. You will also have access to Office 365 accounts to allow learning to take place from anywhere in the world.
Special Educational Needs & Disabilities (SEND)
We offer one-to-one support for high needs students, small group support, learning needs assessment and liaison with outside agencies. Appropriate provision is put in place for young people with Education, Health and Care Plans (EHCPs) and that information is shared with lecturing staff so that they are able to cater for your requirements, helping you to effectively access your learning and enable you to achieve your very best.
16 – 19 Tuition Fund
The 16 to 19 tuition fund is a one-off fund for the 2020 to 2021 academic year. It is provided to support small group tuition in English, Maths, and other courses where learning has been disrupted due to the temporary closure of schools in March 2020.

To support students with their studies at Callywith College we have appointed an experienced Maths Tutor and allocated time to existing English teachers so that they are able to offer small group support tuition to students. In addition we will use funds to offer one to one support to students on topics such as assignment writing, essay writing and revision techniques.
Find out more about how we can support you with your learning at Callywith College below.