Transport
Callywith College is working in partnership with Cornwall Council and Sustrans (the UK's sustainable transport charity - www.sustrans.org.uk) to promote active, sustainable travel to College and to reduce congestion. Choosing to travel on foot or by bicycle reduces air pollution and traffic congestion, whilst saving you money and keeping you fit. Using public transport also helps reduce your carbon footprint, so check out your travel options below and play your part in making Bodmin a better place to study.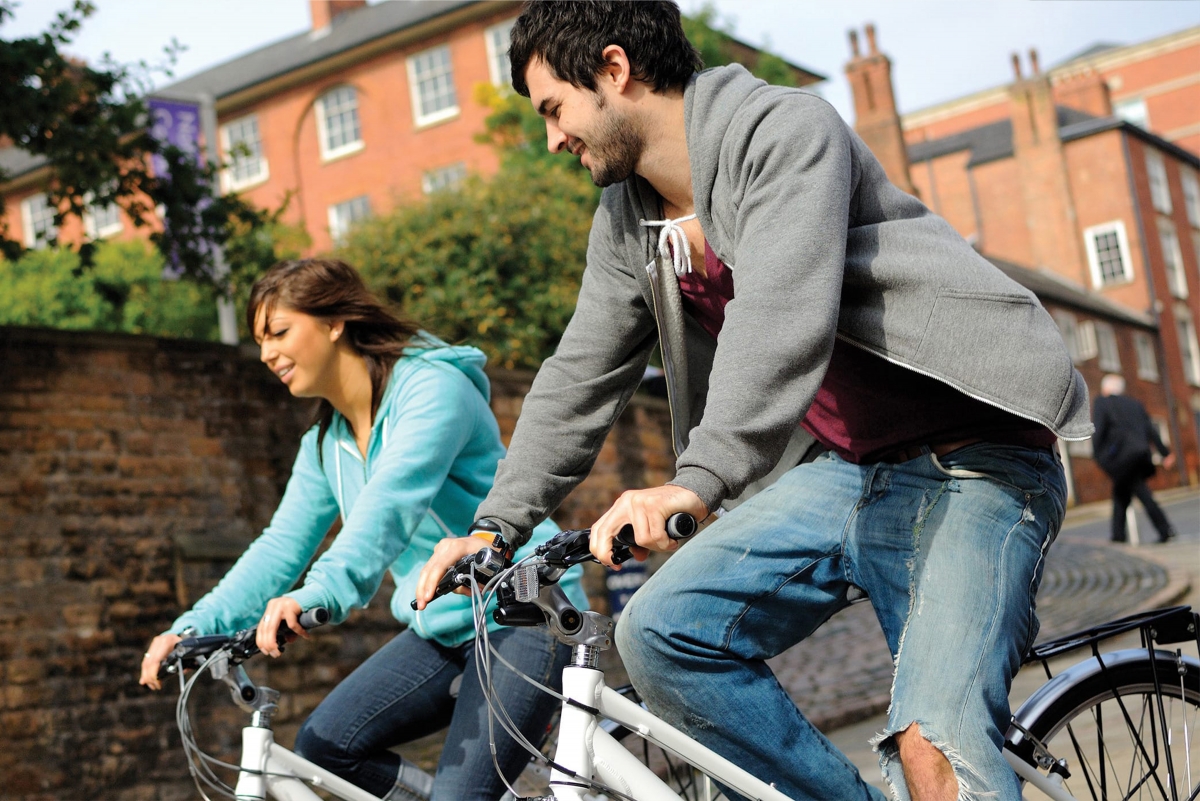 Walking & Cycling to College
Walking or cycling is a simple, environmentally friendly and free way to fit exercise into your day. The town centre is only a 10-15 minute walk or cycle away, so why not beat the traffic and give it a try? There is covered cycle storage at the campus and showers/ changing facilities are available. Dedicated traffic-free routes serving the town's colleges are marked on the Bodmin active travel map www.cornwall.gov.uk/activetravel. Other traffic-free connections to College include the Camel trail from Padstow, Wadebridge and St Breward. www.cornwall.gov.uk/cornishway
Buses
Callywith College are continuing their partnership with Go Cornwall for 2022/23 to provide your college bus services. All buses are Wi-Fi enabled to support your study whilst you travel.

An annual bus pass costs £480 per year and provides access to our dedicated college services and can also be used during evenings, weekends and holidays on any Go Cornwall bus routes (excluding central Plymouth) for approximately £1.30 per day. The cost of this pass can be paid in three termly instalments, or as an annual one-off payment.

The College is using the Go Cornwall app to offer virtual ticketing on the bus network. The app will need to be downloaded onto your phone and an account created using your student email address. A physical bus pass will no longer be provided.

Callywith students are also able to use the Go Cornwall mobile app to make use of the free shuttle service between Callywith College and Bodmin Town and Bodmin Parkway Railway Station.

Alternatively, a Cornwall Council bus pass may be purchased (priced at £540). Please be aware that the council pass can only be used on the designated route stated on the pass and not the other Callywith College bus services.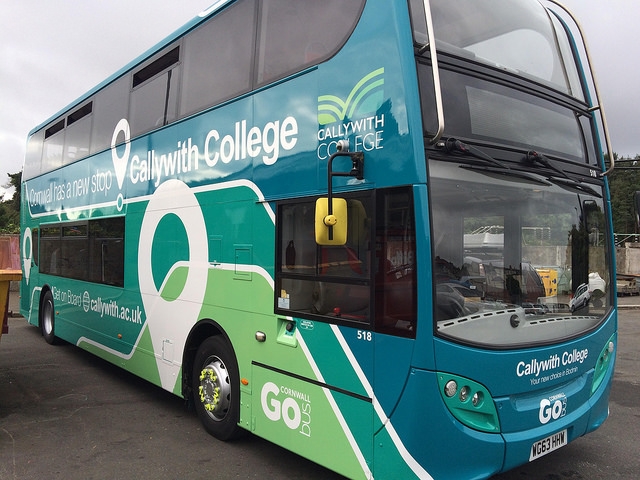 Bus Timetables

You can view the Callywith College Go Cornwall timetables below:

Callywith College bus timetables and map (Summer 2022)


**Updates for Summer 2022**

From April 2022, Go Cornwall Bus have made changes to the timetable of buses on their general network. Some of these changes that will affect the college buses in the morning, are detailed below:

CALLYWITH MORNING BUSES:

11A - Padstow to Callywith – Will be RENAMED 10.

The 10 bus will start from Padstow Station Road as usual but will leave 5 minutes earlier - leaving Wadebridge Bus Station at 8.25am and arriving at college at 9am rather than 9.05am.

10 - Port Isaac via Wadebridge – Will be RENAMED 96.

The 96 bus will leave 5 minutes earlier starting at Port Isaac at 7.30am, arriving at Wadebridge Bus Station at 8.22am (8 minutes earlier than previously).

DAYTIME BUSES:

11 – Plymouth to Bodmin Parkway – will now connect with the number 10 at Bodmin Parkway to continue to Padstow.
179 - Gunnislake to Bodmin via Liskeard – will now run from Asda Bodmin at 11.15am and 1.15pm and return from Tavistock arriving back at Bodmin at 12.30pm and 2.20pm.

Timetables for all Go Cornwall buses available to students to get into college and for all other local services available to students can be found at www.transportforcornwall.co.uk


Bus Routes for September 2022/23

Callywith College have an excellent and comprehensive bus service run by Go Cornwall offering stops all over Cornwall and into Devon. However, there are still some areas where we may not offer a convenient stop or service for all our students. If you would like to attend our Ofsted Outstanding college but are having issues with the journey, we'd really like to hear from you.

Please let us know where you would like to see new bus routes or stops by completing the form below:

bus routes for 2022/23


Applying for a Bus Pass

The deadline for Summer Term 2022 bus passes is 1st April 2022.
Summer Term 2022 bus passes are now available to buy online via the online payment portal below.
If attendance during the Spring Term is below 90% students may not be eligible for the same level of financial help.

Autumn Term 2022 bus passes for students joining in September 2022 are not yet available, more information on when and how to apply for bus passes will be sent to applicants by July 2022.

Online Payment Portal

Bus Pass / Payment Portal FAQs


Transport Enquiries

For enquiries regarding timetable information including specific bus routes and stops, please contact Go Cornwall by emailing ask@gocornwallbus.co.uk or calling 0808 196 2632.

For any other general transport enquiries, please email transport@callywith.ac.uk or call 01208 224000.


Bursary and Subsidised Bus Pass

From September 2022, we can help towards bus pass costs if you have a household income of: 

Under £16,000 – eligible for a free annual bus pass.*

£16,001 - £22,000 – eligible for an annual bus pass at a cost of £80 payable in termly instalments. Autumn Term £35, Spring Term £25 and Summer Term £20.*

£22,001 - £31,000 – eligible for an annual bus pass at a cost of £210 payable in termly instalments. Autumn Term £90, Spring Term £65 and Summer Term £55.*

Above £31,000 – eligible for an annual bus pass at a cost of £480. Autumn Term £190, Spring Term £150 and Summer Term £140.

*On application and dependent upon a minimum of 90% attendance each term for financial help the following term. 

Bursary Applications

To apply for a subsidised bus pass and for possible further financial support and/or a daily meal allowance, please read the information below:

September 2022 applicants who have accepted their place will be sent a link to a bursary form in the next few weeks which can be completed online with the ability to upload the supporting documentation with your form.

The deadline for bursary applications is Friday 5th August 2022.

For enquiries regarding bursaries, or to request a paper copy of the application form, please contact Student Services on 01208 224000 or studentservices@callywith.ac.uk
Trains
Frequent trains serve Bodmin Parkway station with free connecting buses to Bodmin. To apply for a free pass between Bodmin Town Centre, Bodmin Parkway Station and the college, please go to our online portal. Alternatively, why not bring your bike on the train and use the cycle routes between the station and the College (approximately 25 minutes' ride)? You'll need to make a booking for your bike if it's a high-speed train, otherwise the carriage of bikes is at the operator's discretion.
Driving to College
Callywith College promotes the use of sustainable travel to get to your place of study. However, we recognise the fact that sometimes car travel is unavoidable. Carshare Cornwall provides a free service for passengers and drivers to link up and share car journeys. Click on the 'cost calculator' on www.carsharecornwall.com to work out how much you could save. Students that wish to drive to College need to apply for a parking permit. These are issued on a case-by-case basis. Parking spaces will be prioritised to those with the greatest need and may be limited.