Transport
Callywith College is working in partnership with Cornwall Council and Sustrans (the UK's sustainable transport charity - www.sustrans.org.uk) to promote active, sustainable travel to College and to reduce congestion. Choosing to travel on foot or by bicycle reduces air pollution and traffic congestion, whilst saving you money and keeping you fit. Using public transport also helps reduce your carbon footprint, so check out your travel options below and play your part in making Bodmin a better place to study.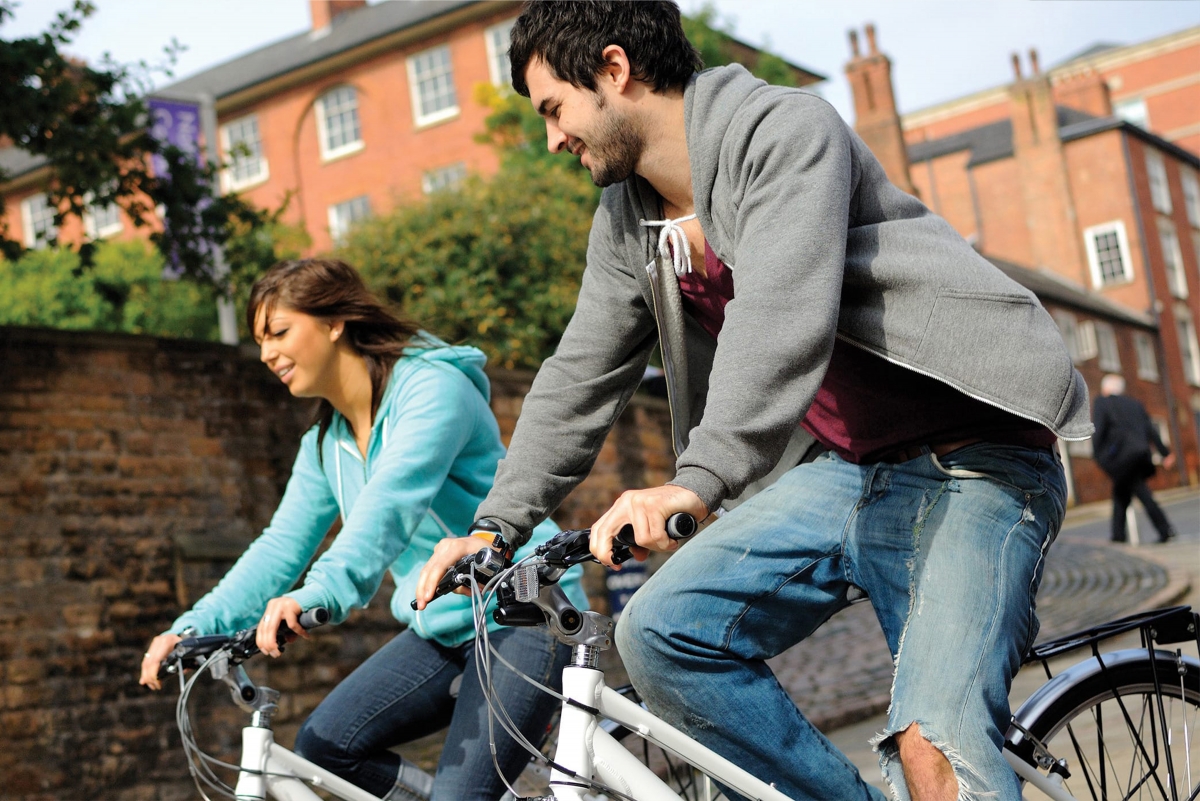 Walking & Cycling to College
Walking or cycling is a simple, environmentally friendly and free way to fit exercise into your day. The town centre is only a 10-15 minute walk or cycle away, so why not beat the traffic and give it a try? There is covered cycle storage at the campus and showers/ changing facilities are available. Dedicated traffic-free routes serving the town's colleges are marked on the Bodmin active travel map www.cornwall.gov.uk/activetravel. Other traffic-free connections to College include the Camel trail from Padstow, Wadebridge and St Breward. www.cornwall.gov.uk/cornishway
Buses
At Callywith College, we work with Go Cornwall to enhance the public bus network with additional services to and from the College at the beginning and end of the College day. Callywith students can buy an annual Go Cornwall bus pass at a heavily subsidised rate that not only gets you from home to college and back, but also gives you anytime (including evenings, weekends and holidays) access to all routes in Cornwall on any Go Cornwall services for around £1.80 per day for the year.

The Go Cornwall pass for Callywith College will cost £650 a year, which can be paid in three termly instalments of £275.00, £240.00 and £135.00 or as a one-off annual payment.

The College is using the Go Cornwall app to offer virtual ticketing on the bus network. The app will need to be downloaded onto your phone and an account created using your student email address. A physical bus pass will no longer be provided.

Callywith students are also able to use the Go Cornwall mobile app to make use of the free shuttle service between Callywith College and Bodmin Town and Bodmin Parkway Railway Station. The Bodmin only pass can be applied for here.

Alternatively, a Cornwall Council bus pass may be purchased (priced at £600). Please be aware that the council pass can only be used on the designated route stated on the pass and not the other Callywith College bus services.

Applying for a Bus Pass

This year, all new and returning students are required to complete a Bus Pass Registration Form to apply for a Go Cornwall bus pass on a nominated route. This form will need to be completed by 14th July 2023.

Please be aware that the deadline for registering for a bus pass has now passed. New and returning students can still complete the bus registration form above, however, forms submitted before Friday 14th of July will be prioritised.

We will endeavour to assign all registrations received by the 14th of July to a bus route. In this form you will be asked to indicate your preferred routes. In the event of over subscription, the priority criteria are detailed at the end of the form.

All students who complete the bus pass registration form by the 14th of July deadline will be sent an email confirming the outcome of the allocation process and a link to the online payment portal to allow you to pay for the pass.

The link will be accompanied by a full route map updated for September 2023 reflecting the distribution of students and minimising transport times where possible.

The payment window will be open from the week commencing 17th of July until the 30th of August 2023. Any passes not paid for by this date will be reallocated to students who were unsuccessful in the initial allocation using the same priority order as set out below.

We cannot guarantee that bus pass registration forms received after the 14th of July will be processed before the start of term and students may not be able to access the bus of their choice. However, if spaces on routes remain unallocated after the 14th of July, late applicants will be offered passes on a route-by-route and first-come-first served basis. Please note that the purchase of a pass provides access to a public bus service and does not guarantee a reserved seat. At busy times, passengers may be required to stand within safe legal limits for public transport.

Terms of Registration

Please read the Terms of Registration for a Go Cornwall Bus Pass for Callywith College below:

Terms of Registration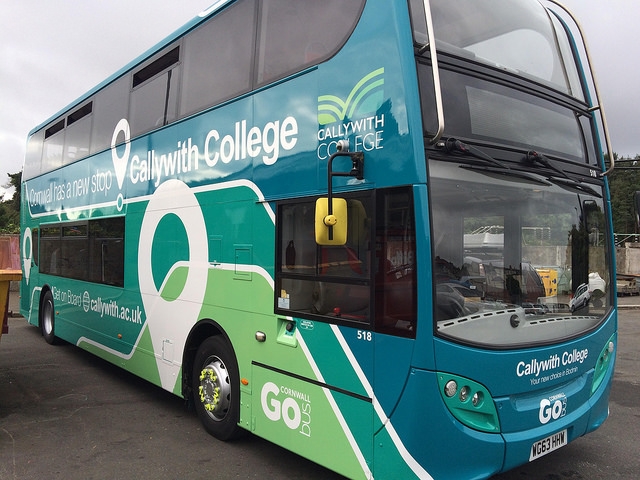 Bus Timetables

Please find below, our bus timetables for 2023/24. Please note that these are subject to change.

2023/24 bus timetables

2023/24 bus map


Bus Pass Payments

For Autumn 2023 passes, a link to our online payment portal where you can pay for the pass and confirmation of a space being allocated will be sent out week commencing 17th July 2023 to those who have registered for a bus pass here.

Autumn 2023 passes will need to be paid for by 30th August 2023. If a pass is not paid for by this date the space may be reallocated to a student on the waiting list for that bus route.

Bus Pass Payment Portal
Bus Pass / Payment Portal FAQs

Future Bus Pass Deadlines

Spring Bus Pass Payments - Friday 8th December 2023
Summer Bus Pass Payments - Friday 22nd March 2024

Transport Enquiries

For enquiries regarding timetable information including specific bus routes and stops, please contact Go Cornwall by emailing ask@gocornwallbus.co.uk or calling 0808 196 2632.

For any other general transport enquiries, please email transport@callywith.ac.uk or call 01208 224000.


Bursary and Subsidised Bus Pass

Callywith is able to subsidise the cost of bus transport for all and offer significant bursaries to reduce the costs for students from lower income households. We can provide bursaries to contribute towards bus pass costs based on total annual household income at the following rates:
Less than £16,000 – Pass cost £65 with a 90% bursary discount of £585*
Three instalments- £28.00, £25.00 and £12.00
£16,001 - £22,000 – Pass cost £195 with a 70% bursary discount of £455*
Three instalments - £85.00, £70.00 and £40.00
£22,001 - £31,000 – Pass cost £325 with a 50% bursary discount of £325*
Three instalments - £140.00, £110.00, £75.00
£31,001 - £70,000 – New transitional discount for 2023-2024 with a 10% discount of £65**
Three instalments - £260.00, £215.00, £110.00

More than £70,000 – Pass cost £650
Three instalments - £275.00, £240.00 and £135.00
*On application and dependent upon a minimum of 90% attendance each term for financial help the following term.

**If you are not eligible for a bursary under our existing scheme, you will be pleased to hear about our transitional discount. Following recent announcements regarding funding for Post-16 education from September and publication of new pricing for public transport in Cornwall, we have been able to add an additional 10% transitional discounts for students in households where their annual income falls outside of our existing bursary scheme. Households with an income between £31,001 and £70,000 will be eligible for a reduced annual pass price of £585 for 2023-24 once the transitional discount has been applied. Prospective students eligible for the transitional discount will be able to apply for this discount at the point of purchase and do not need to complete the bursary form. This discount is still dependent on a minimum of 90% attendance each term.
Bursary Applications

To apply for a subsidised bus pass for September 2023 and for possible further financial support and/or a daily meal allowance, please read our bursary guidance notes and apply using the form below.

BURSARY FUND APPLICATION FORM 2023/2024

The deadline for 2023 bursary applications is Friday 4th August 2023.
Please note: If you've been awarded a bursary, please be aware, these discounts will not be applied to the payment portal until 1st August, 2023. Please log in after this date to make a payment.

For enquiries regarding bursaries, or to request a paper copy of the application form, please contact Student Services on 01208 224000 and select option 4 or email bursary@callywith.ac.uk
Trains
Frequent trains serve Bodmin Parkway station with free connecting buses to Bodmin. To apply for a free pass between Bodmin Town Centre, Bodmin Parkway Station and the college, please go to our online portal. Alternatively, why not bring your bike on the train and use the cycle routes between the station and the College (approximately 25 minutes' ride)? You'll need to make a booking for your bike if it's a high-speed train, otherwise the carriage of bikes is at the operator's discretion.
Driving to College
Callywith College promotes the use of sustainable travel to get to your place of study. However, we recognise the fact that sometimes car travel is unavoidable. Carshare Cornwall provides a free service for passengers and drivers to link up and share car journeys. Click on the 'cost calculator' on www.carsharecornwall.com to work out how much you could save.

Students parking at Callywith College will need a Parking Permit which are available from Reception. To apply for a permit, students will need to provide copies of their drivers licence and insurance and are issued on a case-by-case basis. Parking Permits cost £30 per annum.