Student Services
If you are in need of advice, guidance and support, the Student Services team is dedicated to helping you.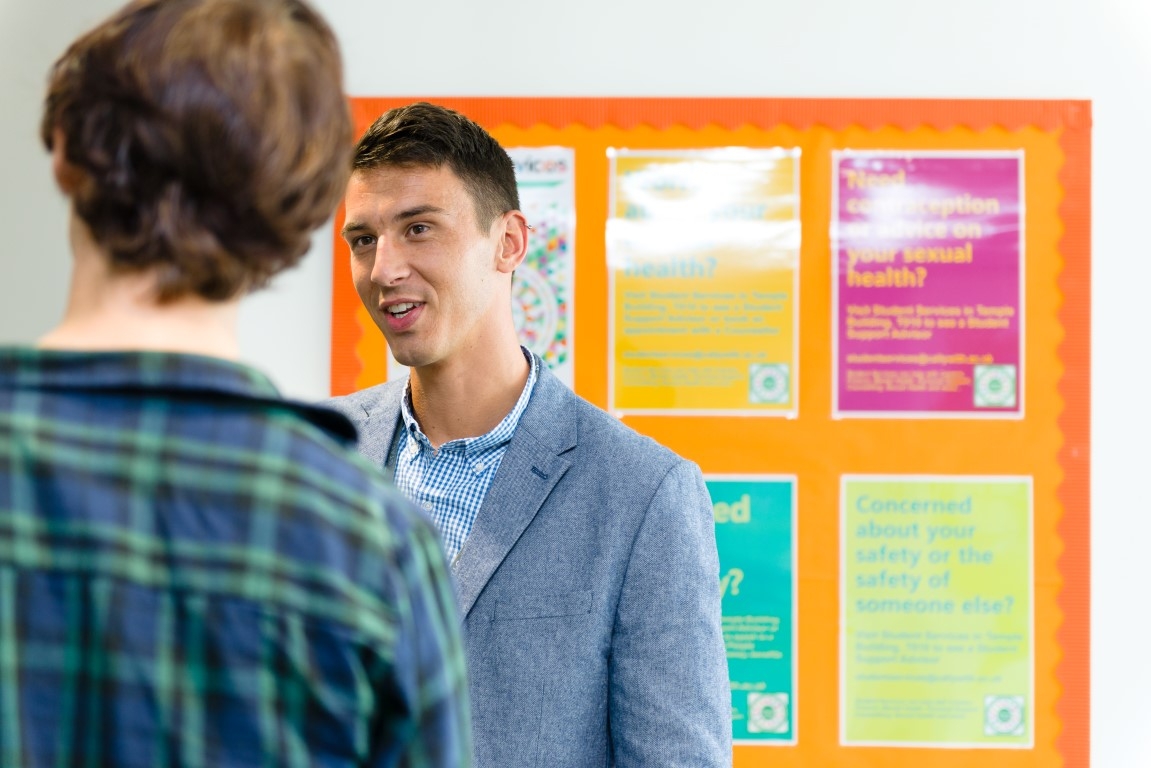 Our Student Services team are on hand to help with all kinds of advice from university and careers to mental health and wellbeing. It is important to us that you get the most out of your time at Callywith College and the support you'll get will ensure you have a positive learning experience and enjoy student life to the full.

The Student Services Team can be found in Temple Building T010 and contacted by emailing studentservices@callywith.ac.uk or calling 01208 224460. You can also use our Student Services Referral Form to request support from the Student Services team.

Meet the Student Services team here.
Personal Support
Our team is here to help you with any issues you may be experiencing outside of the classroom. We have an open-door policy so you can come to us and talk confidentially about anything that is troubling you and access a variety of information, advice, guidance and personal support. We have a dedicated team of staff who are trained in welfare support and we have links with a wide range of support services and agencies who can provide additional support for your emotional and physical wellbeing.
Here at Callywith we recognise that being young is hard at times and we are trying to recognise that by providing a variety of support. We can help you with anything but to give you an idea, some of the common things we help students with include:
Personal issues (e.g. relationships, emotional worries, issues at home, bereavement, online/social media problems)
Safeguarding (i.e. yours or someone else's emotional or physical safety)
Mental Health & counselling
Drugs and alcohol
Sexual Health & contraception
Housing, homelessness & benefits
Money problems
Careers advice
Gender, sexuality & identity support
Depending on your situation, we will either provide you with the help you need internally through one of our services or we will help you seek more appropriate or specialist support with an outside agency. Sometimes you may just need a safe space to go during the busy day and that's fine too. If you need to speak to someone regularly about any personal issues you are dealing with, we offer a one-to-one 'check-in' service where you'll get consistent, non-judgemental and confidential support whenever you need it from our dedicated team who are experienced in providing a range of personal to young people. Our team and can advise you on any online or social media issues you maybe experiencing.
Mental Health
Sometimes students may experience emotional, personal or mental health issues that need to be shared with a qualified counsellor or mental health professional. We have our own in-house counselling service called Time2Talk which is both free and confidential to access and you can access it at any point during your studies. It provides emotional one-to-one support in the form of person-centred counselling and CBT. It also provides an informal listening service which takes place in our quiet contemplation room. It can help with things like anxiety, depression, bereavement, identity and lots more. We also work closely with external mental health agencies in order to ensure you receive the right support, with appointments if required available on the College campus.


Physical Health
We are committed to providing recreational activities alongside the Sports Academy provision for every single student and this is achieved through our Callywith Active student programme. Our promise is to make promoting health and wellbeing throughout the campus our priority with a focus on increasing the physical activity of all staff and students in order to improve overall health and wellbeing. This is a programme of physical activities designed to improve your mental and physical wellbeing. There are lots of activities you can access for free such as yoga, boxercise, walking groups, gym sessions and badminton and more.
Therapy Dog
Our therapy dog, Macy, is fully trained and forms part of our holistic approach to supporting you. Her presence helps bring a sense of calm and joy to everyone. She is supportive in helping people manage anxiety and stress as well as develop their empathy and emotional resilience. Macy is also part of the Read2Dogs scheme which helps to improve the literacy skills of young people by helping them feel less stressed and self-conscious when reading to others in a group. She can help you if you are feeling stressed, anxious, overwhelmed or sad and you can pop in to see her any time in Student Services; she is here every week.
Mindfulness Trail
Our new Mindfulness Trail is designed to create a safe journey through nature to help students and staff become more active and improve their mental health.

The trail, which winds around the College's 3G Astro pitch and will eventually lead to our nature reserve, allows students and staff to take a walk through nature and immerse themselves in the natural elements and beautiful surroundings we have here at the College, providing a getaway from the main campus.

The Mindfulness Trail also features a variety of outdoor fitness equipment funded by Sport England's 'Queen's Platinum Jubilee Activity Fund' to help develop physical activity opportunities at the College, situated in-between specifically designed trees, flora and fauna.

Appointments to use the Mindfulness Trail for walking, relaxing or exercise can be booked via our Student Services team by emailing studentservices@callywith.ac.uk or calling 01208 224460.
Finance and Housing
We can provide support and advice if you are experiencing financial hardship as well as information on student finance and funding for Higher Education. We can also help if you need to speak to someone about your housing situation, benefits or need help with budgeting.
Careers
We know that making decisions about your future can be a bit daunting. That's why we are committed to helping and guiding you through those all-important choices about what to do next. All students can discuss their personal progression routes and receive support in making decisions appropriate to their needs with a fully trained and dedicated L6 Careers Advisor. They can help with things like LMI information, CV writing, researching and applying for jobs, apprenticeships and university, interview techniques, mock interviews and more. A range of careers' resources including guidance, templates and software are available to all students via the college's SharePoint and through our tutorial programme.

There are also a range of careers related trips and events over the year which you can access, including visits to universities, apprenticeship shows and the UCAS fair, as well as more subject specific visits, guest speakers and other activities. Vist our careers hub for more information on how we can support you. You can also make a careers appointment by emailing careers@callywith.ac.uk
Additional Services
We work with a variety of external agencies who can provide specialist support for those who need it. Some of these agencies include Kernow Young Carers, We are with you (formerly YZUP), Intercom Trust, Young People Cornwall, Early Help, Next Steps South West and many more. They generally offer both informal drop in sessions and one-to-one appointments which can all be booked directly with us.
Safeguarding
We are committed to Safeguarding and promoting the welfare of all children, young adults and vulnerable adults who attend our college. You can speak confidentially to a member of our Safeguarding Team at any time if you are concerned about your safety or the safety of someone else. They can advise and guide you on any safety concerns you have and support you with any issues you may be experiencing. We are also part of the Operation Encompass initiative and work closely with our local Police Youth Intervention Officer who can offer you support, advice and guidance. Find out more and contact the safeguarding team here.
Find out more about how our Student Services Team can support you from Student Services Lead Jamie below.