Exceptional results for vocational students
Students on vocational courses have excelled in their very first set of exams, with an exceptional number of them achieving high grades well above the national average.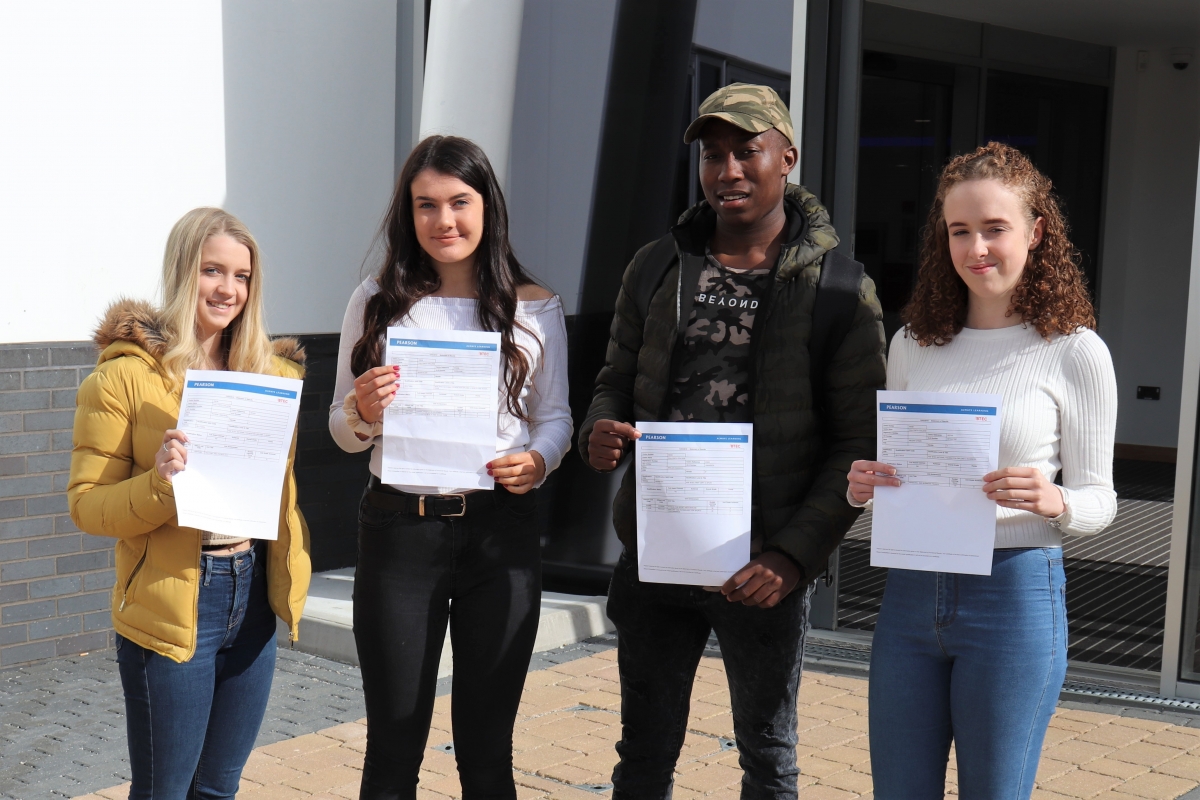 The vocational students results are particularly impressive on the new BTEC Level 3 programmes which have been made more 'rigorous' as part of the governments overhaul of post-16 qualifications which now include external exam components. National performance on these new qualifications last year was very low, so Callywith College's very first students to sit exams have done exceptionally well.
Particularly exceptional results came from Level 3 Sport Diploma students who achieved an outstanding 100% pass rate in anatomy and physiology, compared to a national pass rate of only 29% for the qualification in 2016. Former Looe Community Academy student Phoebe Underhill, who is hoping to study Sports Rehab at Cardiff University, potentially leading to a career in sports therapy, said: "My course is quite difficult, but I enjoy the challenge and it's really fun too! To achieve a Distinction I've been doing a lot of work at home on my assignments and revision."
Level 3 Business Diploma students also achieved a 90% pass rate on their finance paper and Level 3 Health and Social Care Diploma students achieved 100% and 94% pass rates on human lifespan development and working in health and social care – all well above the national pass rates for the same qualifications in 2016.
Former Wadebridge School student Megan Chadd, who achieved a Distinction on the Level 3 Business Diploma paper and is hoping to progress onto university to study Marketing and Management said: "I am thoroughly enjoying my course and this has played a key factor in my will to work hard to help achieve the grade I have. Business is an area I would very much like to go into in the future and has acted as a driving force in me doing well; encouraging me to ensure I complete all of my work to the best of my ability."
Level 3 Games Design, Animation and VFX Skills Diploma students also achieved a 100% pass rate, with former Looe Community Academy student Louis Reeves, who hopes to study Games Design at Falmouth University, achieving an outstanding 97% Distinction. Louis commented: "I am really enjoying my course and feel that I have really progressed from where I was in September."
Level 2 Progression students did just as well, with Health and Social Care students achieving 100% and 90% pass rates for papers, compared to a national pass rate of 69% for the qualifications in 2016 and Sport students achieving 100% on both sport and fitness and anatomy and physiology papers, compared to the 70% national pass rate in 2016.
Level 2 Sport student Mollen Ngwenya, whose second language is English and hopes to study Business at university, is also taking GCSEs in Maths and English. Mollen commented: "I'm really pleased to have passed my first exams, I've found the courses really challenging, but the extra work I've been doing at home and the help from my lecturers has really helped me to improve."
Callywith College Principal Mark Wardle said: "The exceptional achievements of our students in their first set of exams means that they have set themselves up to achieve fantastic results at the end of their courses. I am delighted at the progress they have made and the aspirations they now have for the future. With such a wide range of employment-linked courses on offer, we can ensure students are able to choose the right course for them and fulfil their potential."