Events
Take a campus tour, see the state-of-the-art facilities, meet the staff and students and experience first-hand the new Callywith College.
Open events
Open Evening - Wednesday 2 May 2018, 5pm - 8pm
Open Day - Saturday 24 November 2018, 10am - 3pm
Open Evening - Thursday 7 February 2019, 5pm - 8pm
Open Morning - Saturday 9 March 2019, 10am - 5pm
Open Evening - Thursday 9 May 2019, 5pm - 8pm
Other events
The Cause - An Overture of Rebellion and Revolt
Wednesday 25th April (7.30pm)
Thursday 26th April (2.30pm & 7.30pm)
Callywith College Lecture Theatre
£10 (£8 Concessions)
Dreadnought South West and intoBodmin present:
The Cause – An Overture of Rebellion and Revolt
The year is 1913. Revolution stings the air....
​In an orchard two women meet in secret. Their actions have divided them. Divided a nation. Split their cause in two.
What happens when the two women are suffrage leaders; Emmeline Pankhurst and Millicent Fawcett?
​The Cause considers the impact of a lifetime of political campaigning on an individual. Asking how far would you go for what you believe in?
The performance is open to the public and tickets can be purchased at www.intobodmin.co.uk/events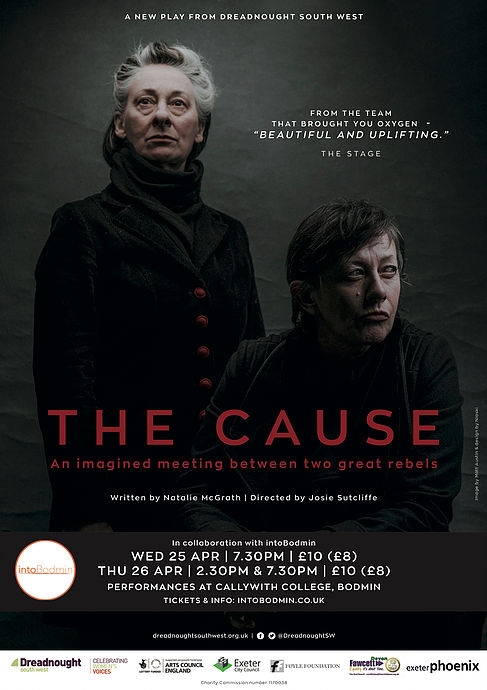 Alan Turing and the Enigma Machine **SOLD OUT**
Tuesday 6 March 2018, 7pm-8:30pm
Callywith College is holding a free public lecture including a full demonstration with the original WWII Enigma Machine – as Dr James Grime illuminates the brilliant mathematical insights and innovative thinking of Alan Turing.
For more information and to book visit: EnigmaEvent.eventbrite.co.uk
(Due to popular demand, this event has now sold out.)