Huw Williams - PTL Humanities and Social Sciences
Huw is the Programme Team Leader for Humanities and Social Sciences. Huw is also able to provide personal and pastoral support for all students within his area of responsibility, including mental health and safeguarding support. Huw also coordinates Ten Tors and the Duke of Edinburgh Award programme.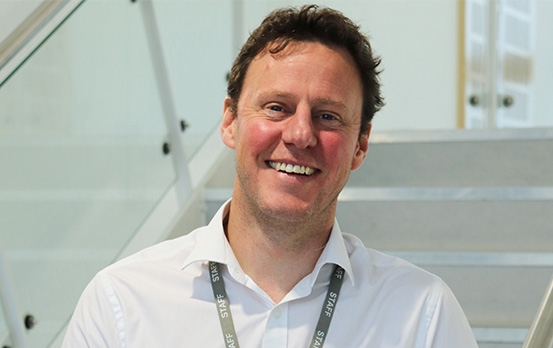 What is your background in education?

I completed my teacher training at Southampton University and worked in a school specialising in Special Educational Needs for students with moderate learning difficulties and Behavioural difficulties (years 4 – 13). I have also worked (for eight years) as a volunteer and trustee for an educational charity, supporting deprived children and orphans in Romania. I then moved to Truro & Penwith College to teach for a year before coming to Callywith College to teach.

What inspired you to pursue a career in education?

I love my subject area (Geography) and hold a belief that the key to empowering people and driving global development is through valuing and educating our young people.

What does your role involve?

My Programme Team Leader (PTL) role requires me to support students and staff to ensure that both have an enriching experience at Callywith College. Doing this effectively will allow students to thrive academically and also gain those wider educational experiences that will prepare them for life beyond Callywith College. To do this, I'm required to oversee all teaching and learning and facilitate staff to plan and deliver exciting and engaging lessons for all learners. I will also look for opportunities to allow education to be delivered through means other than the classroom, by involving external organisations/people and allowing students to see new and existing places in their learning. I am also there to provide personal and pastoral support for all of the students within my area of responsibility, including metal health and safeguarding support as well as ensuring that our college is a safe and supportive place to be a part of ,for everyone.

Why do you think Cornwall needs Callywith College?

To provide opportunities for education and open doors. Identified as one of the more deprived areas of the UK where students have fewer opportunities to opt for Further Education. Callywith College is well placed to address this issue. Of Callywith College's first year group to leave, 75% chose to go to university and nearly 70% of those were 'first in family' to do so. That says it all for me!

How does it feel to be part of the Callywith College team?

It's great to be a part of such a vibrant teaching and wider support team. The college has a buzz and desire to provide the best support. It's great!

What about working with Callywith College do you enjoy the most?

The teaching – or at least supporting the teaching staff (and therefore the learners); I don't get to teach much now. Our students are positive young people and great to be around.

When you're not working, what is your favourite thing to do?

I like to be in the sea, surfing mainly.

What advice would you give students considering applying for Callywith College?

Come and meet us, get to know us. When you leave education at 18 you will be an adult, responsible for your own life. We want to support you to get to adulthood as much as we can. This is done by building good relationships with us so that we get to know you and understand how to support you.