Becca
Former A Level Psychology, Sociology and Biology student Becca talks about her experience at Callywith and studying Education and Psychology at Cambridge University.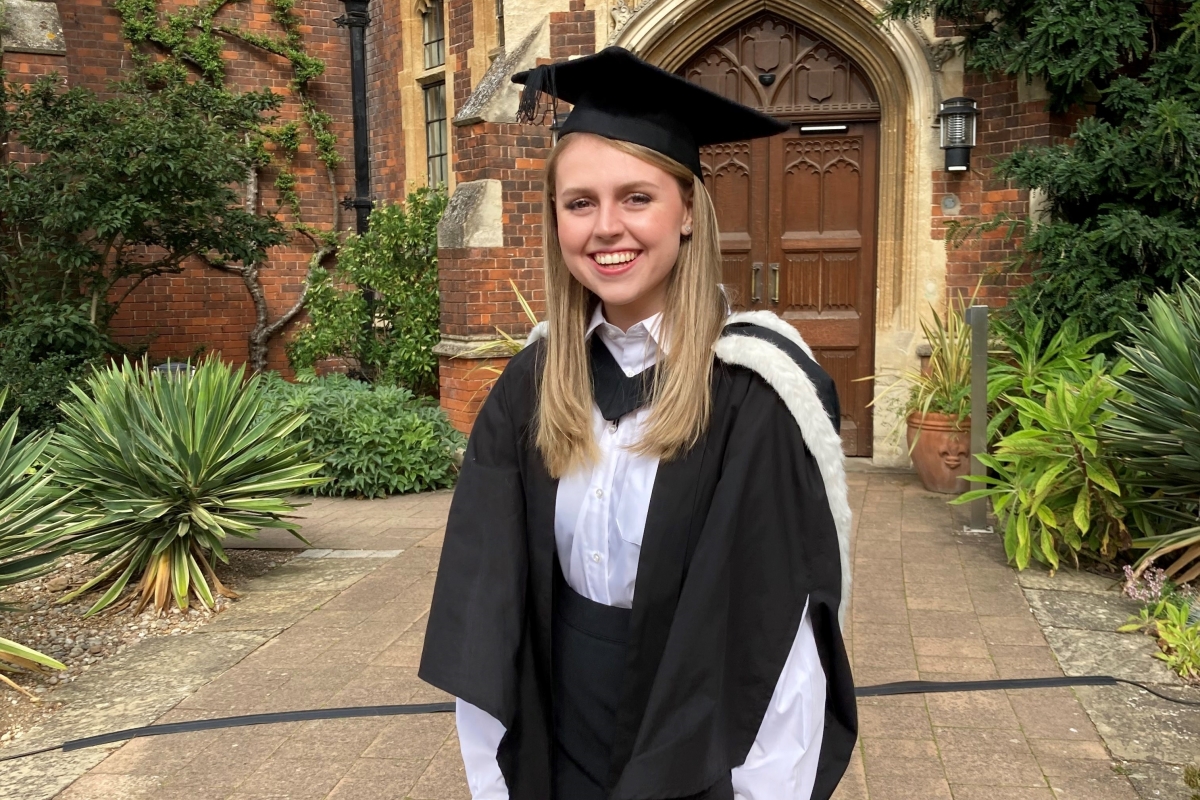 Previous school: Bodmin College

Courses studied: A Level Psychology, Sociology and Biology

Extra activities: Student Ambassador, Academic Academy

Progression: Psychology and Education - Cambridge University
How did Callywith support you in your application to university?
My tutor at Callywith played a huge part in encouraging and supporting me throughout the university application process. She regularly met with me, reassured me and helped me to create an application and personal statement I was really pleased with. The College also offered me the opportunity to have a mock Oxbridge interview which was hugely helpful in giving me a good idea about what the real interviews would be like and what to expect when I got there.
What did you enjoy in particular about studying A Level Psychology?
I really enjoyed the diversity of topics and learning about behaviour from a range of perspectives. I also really enjoyed the balance of being able to practice my essay writing skills, whilst also learning about more scientific topics such as biopsychology.
How are you finding your course / experience at university?
University has been a real whirlwind experience. The terms at Cambridge are incredibly short and very intense, but overall I have loved studying my course and have (nearly!) come out the other side feeling confident in my subject. I have had some incredible opportunities, such as an internship in Westminster, and have met some amazing people (including Stephen Fry!). I am currently completing two dissertations and revising for my final exams, in preparation for graduation in July.
How have your A Level studies helped you in your degree?
It's been so encouraging to find that all of my A Level subjects have been really useful in studying both education and psychology at university level. The content in all three of the A Levels I studied at Callywith have provided me with a solid foundation to build on and have undoubtably come in handy whether it be in a lecture or a last-minute essay!
Why did you chose to study your uni course?
At the age of 15 I became really interested in the education system and after completing an EPQ exploring alternative schools, I knew I wanted to go on to study education at degree level. I also, though, really enjoyed studying Psychology at Callywith so when I found a course at Cambridge that combined the two subjects together, I knew it would be a course that would suit my interests well.
What are you hoping to do in the future?
Back in November, I was fortunate enough to secure a permanent contract to train and teach at Brighton College, UK, which is really exciting. However, my longer term plan is to teach in a variety of schools, both local and international, and use these experiences to explore a career in research, with a view to informing future government policy.