Darcy
Former Level 3 Health & Social Care student Darcy talks about her experience in her Mental Health Nursing Apprenticeship with Cornwall Partnership NHS Foundation Trust.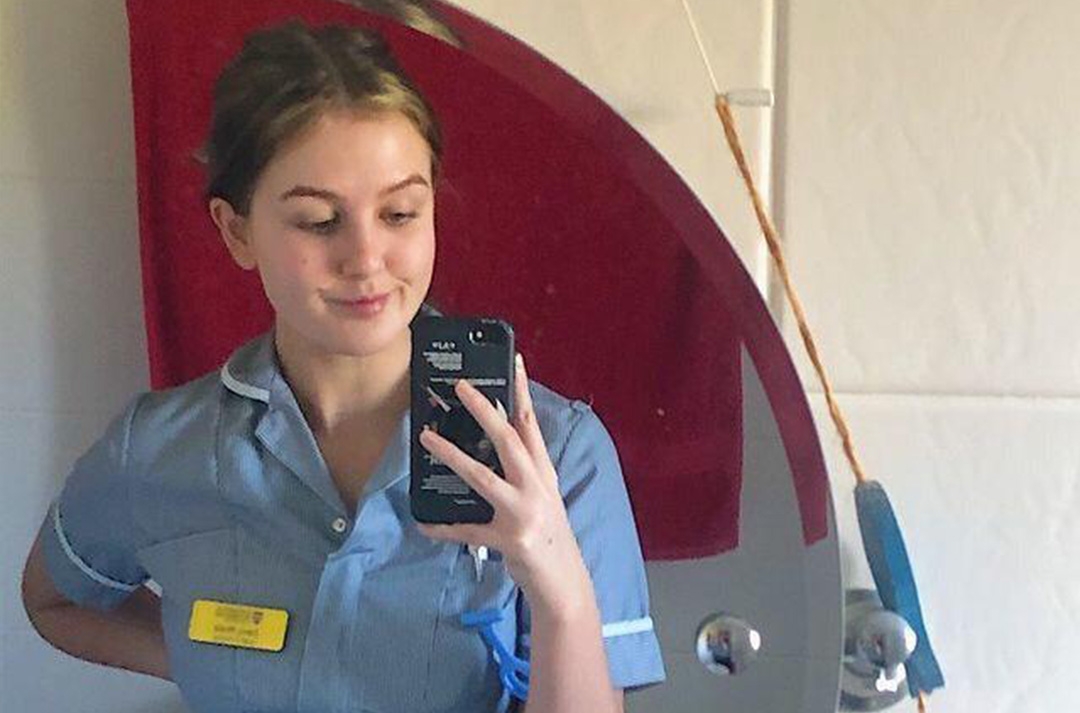 Previous school: Looe Community Academy
Extra activities: Work placement at a Care home
Courses studied: Level 3 Health & Social Care
Progression: Mental Health Nursing Apprenticeship with Cornwall Partnership NHS Foundation Trust through Plymouth University
How did Callywith support you in your apprenticeship application?
Callywith really helped my experience of applying and made me feel less stressed and more organised for my interview.

Sara, my tutor, helped me a lot with my apprentice application on the NHS job site.
Why did you choose the apprenticeship route?
I was really interested in becoming a mental health nurse due to going on placement at a care home with residents with dementia and loving the aspect of helping people with difficulties with their mental health. I also chose the apprenticeship route as I liked the idea of not getting into debt from student loans, and still getting the same opportunity as student nurses, but also having a benefit and being paid.
How are you finding the apprenticeship?
I successfully got on the course doing mental health nursing and I am loving it. Currently, due to coronavirus it is a bit different compared to what it would be like without lockdown. I am doing my placement in Bodmin in a rehabilitation centre with patients who struggle with their mental health. Usually when I have my lectures (online) it would be 4/5 times a week about 6 hours a day, sometimes less. We haven't been able to complete some training due to coronavirus, but I still have been having an amazing experience.
What does a day in the workplace involve?
On placement I have been learning about medication doses for anti-psychotics, anti-depressants and stimulants for patients with autism. On top of this I'm learning about medication that isn't just for mental health as well. I communicate with the patients and do activities as well as do care plans, sit in on their meetings to be discharged and lots more.
What is your favourite part of the apprenticeship?
The best thing about this apprenticeship is that I am loving having experience becoming a future registered nurse, as well as getting paid and still having the exact same experience alongside student nurses from Plymouth University.
What are your top tips for considering an Apprenticeship?
Be prepared to do a bit more work on the side than students at a university who don't get paid. As an apprentice we need to add more work on a website called 'Aptem' that we explain what we've been doing at university, so they know we are doing work.

Be very professional during your interview and come prepared. During your interview you will be asked lots of questions and expected to answer properly.

Don't be too harsh on yourself / don't stress too much. I haven't had experience in mental health, and I was still chosen. You are judged on how willing you are to learn, not how experienced you are.

Be open minded. You may not like that you've been put on a ward with dementia residents for placement because that's not what you want to do. BUT, it's all about experience and gaining more insights in different sorts of mental health settings. Plus you may LOVE it.
When do you finish & what will your next steps be?
I will officially finish my degree in 3 years and will become a registered mental health nurse and hopefully go on to work in a prison helping children/teenagers with mental health illness.