Toby
Former A Level Business, Geography and PE student Toby talks about his experiences as an Apprentice Project Manager at TCi Construction Works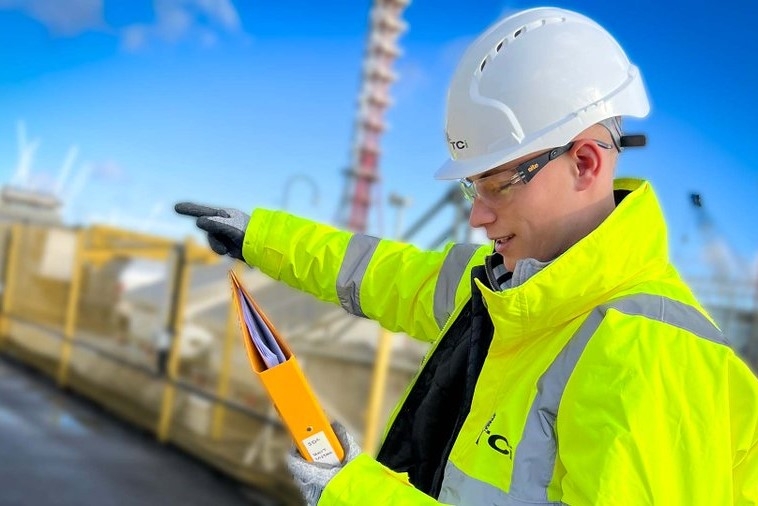 Previous School: Holsworthy Community College

Courses studied: A Levels in Business Studies, Geography and PE

Extra Activites: Football Academy

Progression: Project Manager Apprenticeship, TCi Construction Works
What type of apprenticeship are you undertaking?
I am studying Level 4 in Construction and the Built Environment at Exeter College as an Apprentice Project Manager for TCi, based at Hinkley Point C Nuclear New Build project.
Why did you choose to undertake an apprenticeship?
Before choosing to complete an apprenticeship with TCi, I was going to study Project Management at university. After much thought and consideration I decided that university wasn't the correct path for me and that to be successful I would need to gain as much valuable experience as possible. This is when I started to apply for degree apprenticeships with some of the UK's top construction companies. Fortunately, I was lucky enough to receive an offer to work from TCi to support their operations at Hinkley Point C. This was a great opportunity to expand my knowledge in the construction industry by developing skills on site and studying, while earning money at the same time!
What does your role involve?
My role involves communicating and co-ordinating with different stakeholders, client, and contractors to establish the requirements and challenges of a project. Developing quotations and proposals to submit to clients. Hosting pre-start and design team meetings. Creating and reviewing design and Health & Safety documentation and managing and co-ordinating the site team to maintain the programme.
How has the apprenticeship opportunity benefitted your career path?
Being given the opportunity to complete an apprenticeship with TCi has instantly enabled me to be a part of multi-million pound projects such as Hinkley Point C. This apprenticeship has given me the opportunity to step into construction while getting a feel for different job roles and responsibilities that I didn't know existed!
How does the learning contribute to your daily work for TCi?
The balance of working and learning has quickly improved my knowledge in the construction industry. I am not only learning about the practical side of the industry, I am also learning how to talk to clients, present documents and conduct meetings.
How did Callywith support and influence your decision to do an apprenticeship?
The support from my Tutor, Matt Andrews was outstanding. Even though he had spent a lot of hours helping me apply for universities, he was still willing to give me his time and effort to apply for the degree apprenticeship schemes.
What is the best thing about an apprenticeship?
I believe the best thing about an apprenticeship is that you are working within the professional environment in which you learn not only practical skills about the apprenticeship but other key skills such as communicating and timekeeping. Apprenticeships also allow you to develop key relationships and it can open up door ways in which you would not think of doing before you started.
Do you have any tips or advice for students considering apprenticeships?
The best tip I could give anyone who is interested in an apprenticeship is when looking, and your struggling to find any. Please contact companies and asked if they are willing to take you on as an apprentice. In worst case scenario they say no and you can call the next company.
What is the plan for when you complete your apprenticeship?
The plan after the apprenticeship is to play a bigger role in the delivery of larger projects by assisting the project managers. I will also want to continue my professional development by gaining more qualifications. Once I have finished I will start a degree in Construction Project Management.