'Your Future Week' prepares students for next steps after college
'Your Future Week' is our annual event dedicated entirely to first year students' progression route, their amazing future career and the exciting adult life that lies ahead of them. The week is aimed at raising students' aspirations, empowering them and helping them make rational and informed decisions about their future. This year, students took part in various activities to help them gain life skills and prepare for qualifications post-college and future careers. Here are just some of the things they got up to!
Better World Project
For the 'Better World Project' students from across the College researched and presented on various topics from tackling climate change and promoting diversity and inclusion in college to global recovery from the coronavirus.

The first group of students explored the various issues surrounding climate change and its effect upon the wildlife and natural landscape. The group undertook considerable research to look into the key problems and how they can be tackled by individuals and institutions. Students created a fantastic short film to try and demonstrate the importance of taking action and the inevitable consequences of ignoring the problems. The film featured images of themselves to 'put humans in the position of animals and nature' to highlight the consequences of global warming - increased sea levels and wildfires - as well as the impact of plastic pollution and fast fashion. The film was presented to the Callywith Principal and Assistant Principals in the College's Lecture Theatre where they also spoke of the need for young people to have a voice in these issues with reference to the G7 summit.

Another group of students spent time researching the difficulties faced during the coronavirus pandemic and the strategies adopted by countries to respond to it. During their presentation, they considered the successes and failures regarding the handling of the pandemic to suggest steps to prepare for future outbreaks and to minimise the impact and disruption to people and society.

The final group of students considered the College's current policies, provisions and attitudes towards diversity and inclusion within the College, with a particular focus on mental health provision, LGBTQ+ support and awareness of disabilities. As part of their research, students created a survey which was distributed to staff and students to collect their thoughts and experiences. This enabled them to create informed suggestions for realistic ways to expand and improve in line with these important College values.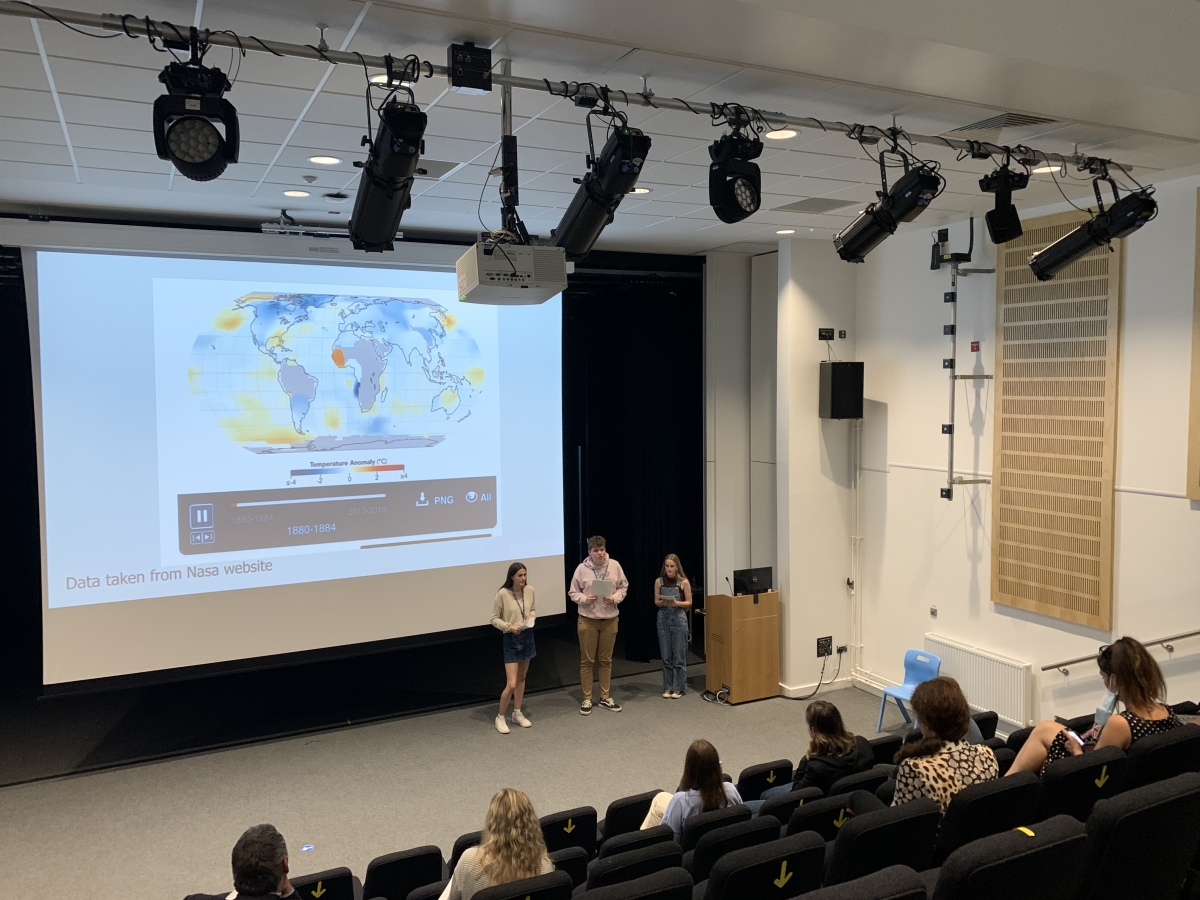 Media workshops
Our media students were visited by Michael Todd, a Digital Imaging Technician (DIT) and colourist who has worked on many high-end, multi-camera productions. Throughout the day, students took part in a colour grading workshop using Davinci Resolve and learnt the importance of this process within video production.

During the week, students also enjoyed a product photography workshop in the studio with Media Lecturer Lindsey after being set an advertising brief. We can't wait to see the finished outcomes!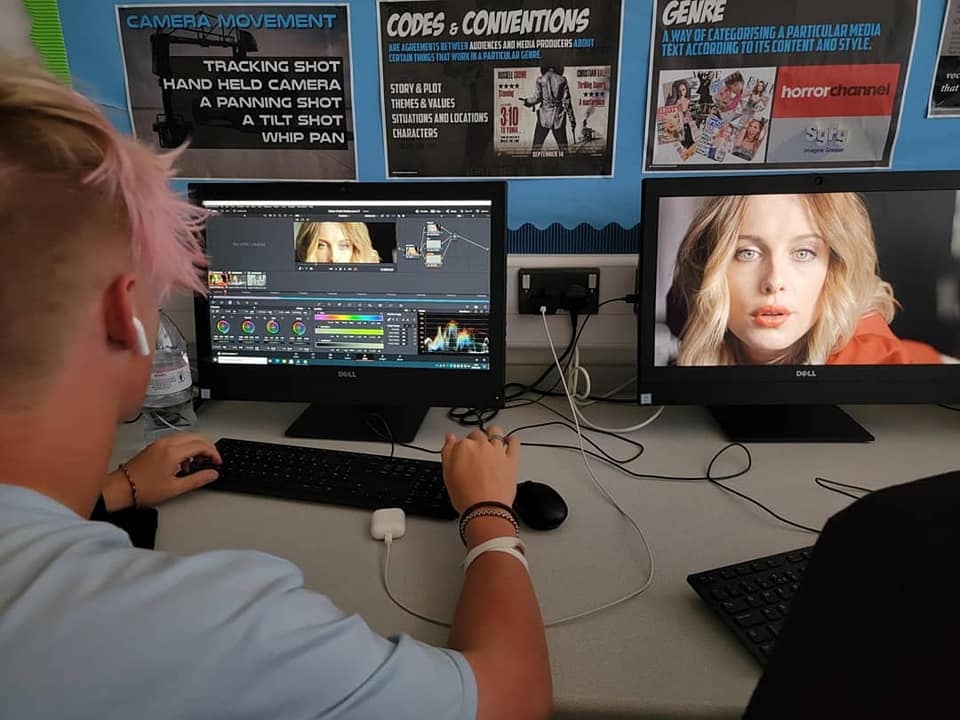 Sport activities
First year Sport students explored a range of different career pathways that their course can lead on to. Workshops included Marketing and Making Healthy Smoothies, Leadership and Team Building, Strapping and Taping and Introduction to Level 1 Football Coaching.

Students also participated in a TAG rugby course through the RFU to gain a coaching qualification that will help them develop their coaching skills, refereeing and running TAG rugby festivals. The students learnt about coaching process skills to keep participants engaged, active & safe. They then went on to learn specific TAG rugby skills and how to referee games which will help them when being utilised for our community festivals with local primary schools.

Sport students also gained qualifications in Safeguarding and Sudden Cardiac Arrest.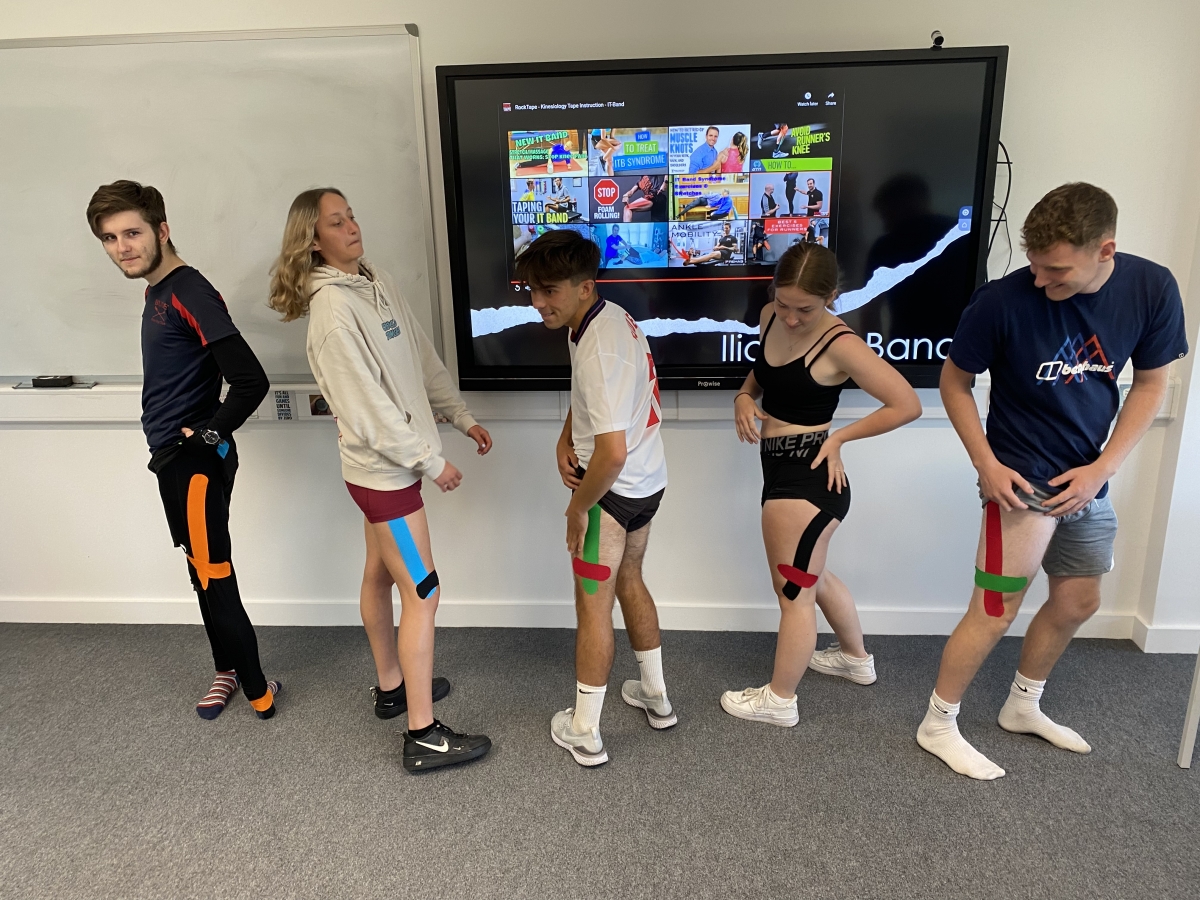 Careers in Languages
A level French and Spanish students joined together for a morning sampling different careers enjoyed by linguists. Students had a go at audio-describing, consecutive interpreting and subtitling. For the consecutive interpreting task, they worked in groups of three. One student produced a 1-minute speech according to a brief while another prepared to interpret this speech in French and one in Spanish.

A Level French Lecturer said: "We had Boris Johnson welcoming the world leaders to the G7 summit, Gareth Southgate addressing the press after England win their semi-final against Spain in the Euros, Stormzy accepting the Mercury Music prize and Greta Thunberg addressing university students about the climate crisis. The students did brilliantly, coping with timing issues, technical vocabulary and colloquialisms - especially from 'Gareth Southgate'! They also had a go at subtitling an extract from 'Despicable Me', thinking about the key challenges faced by subtitlers. We had a great morning!"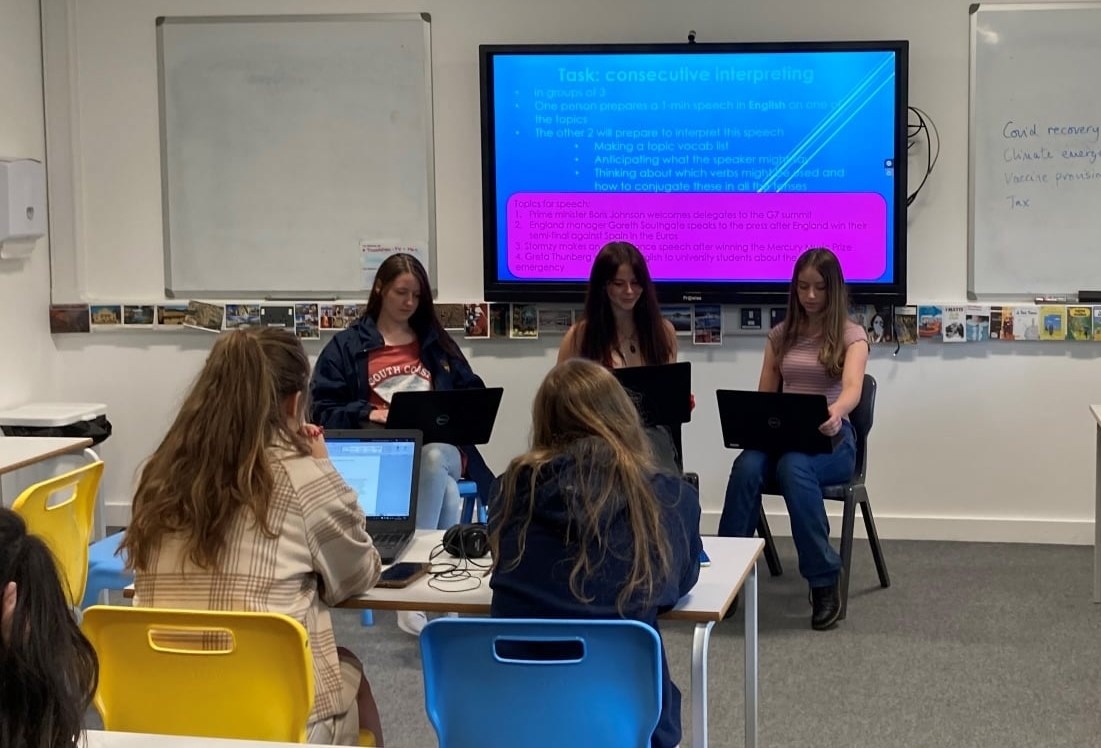 Art & Design workshops
Level 3 Art & Design Diploma students took part in a brilliant 'copper beating' workshop and Q&A with local metal sculptors Thrussels who were commissioned to create the centre piece for the Cornish Landscape Labyrinth at Colliford on Bodmin Moore. During the session, students had the opportunity to create their own fantastic designs and ask the artists questions about becoming and working as an artist.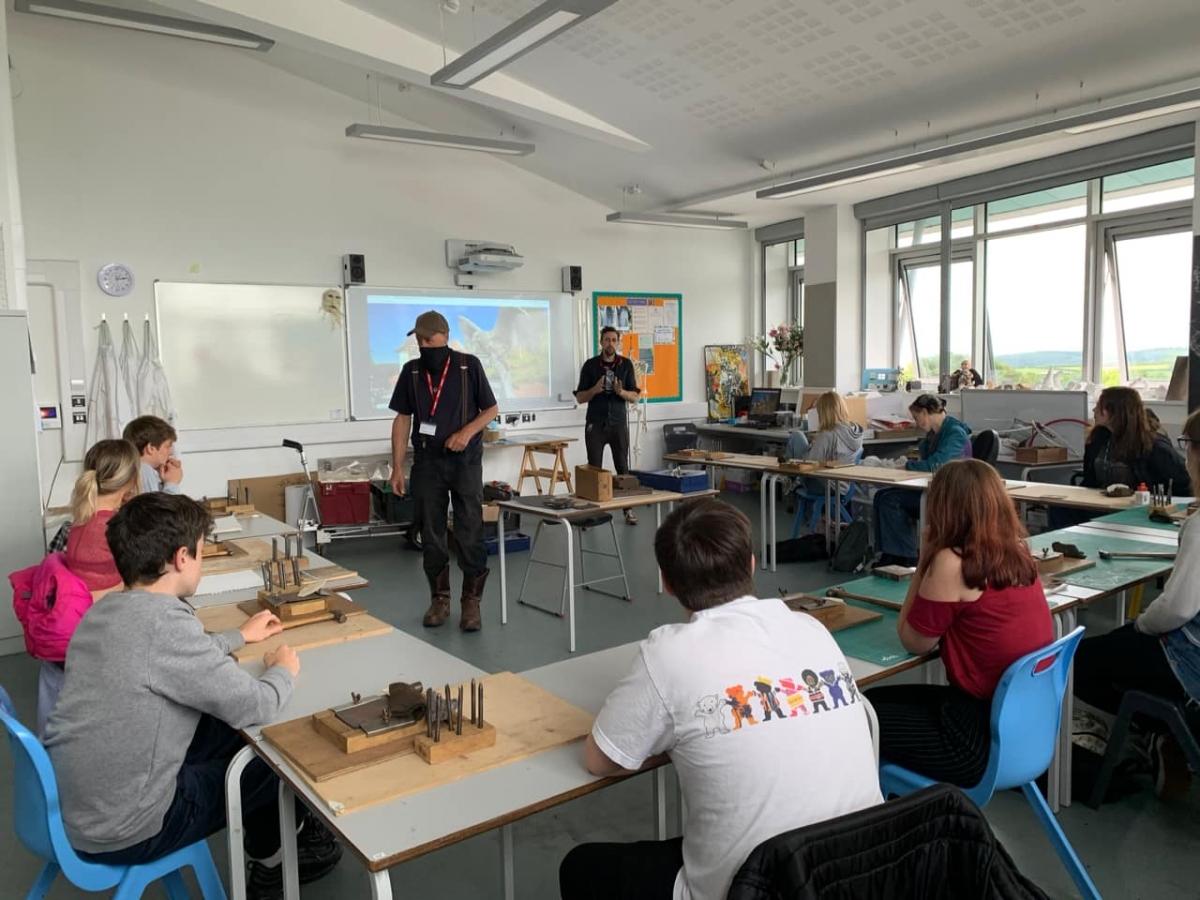 Business Plan Project
Business Diploma and A Level Business Studies students were set a Business Plan Project with a winning prize of £30, second place winning £20 and third place £10. Students were asked to come up with a business idea, justify it, complete a detailed business plan; and then present their ideas in a 'Dragons Den' style pitch to the Callywith 'dragons' - Business Lecturers Adrian, Andrea and Helen.

It was a very close-run competition with some fantastic business ideas!

The WINNERS were…

1ST PLACE: Alex Hall-Walsh - Gaming Upgrades

Dragons' comments: "We were impressed with Alex's presentation. He used no notes, spoke in great depth and we liked the touch of the shirt and tie! His answers to the questions were detailed and thorough. The presentation included the website design and his cash flow forecast was accurate and detailed. We had a slight question about the ethics of the business, but Alex reassured us of this in his answers. Overall, very impressive and feasible."

2ND PLACE: Charles Platt - Deamo Water

Dragons' comments: "The major selling point of Charles' idea was the eco-friendly plastic supported by a well-realised prototype of the packaging and strong market analysis. The presentation would have benefited from a more detailed exploration of finances, but he had strong evidence for the validity and sustainability of his concept. Very competent with great potential for a realistic business venture."

3RD PLACE: Callum McGinley - Munch Crunch Pasties

Dragons' Comments: "Callum was an exceptionally competent presenter. His finances were well thought out and he was brilliant in fielding questions. He was knowledgeable about his subject and obviously passionate about it."

4TH PLACE: Archie and Josh - Cornish Property Maintenance

Dragons' comments: "These two impressed the judges with their vibrant presentation style. They had also mocked up a livery for their van and had a strong focus on branding and logos. They answered questions well and their enthusiasm was contagious."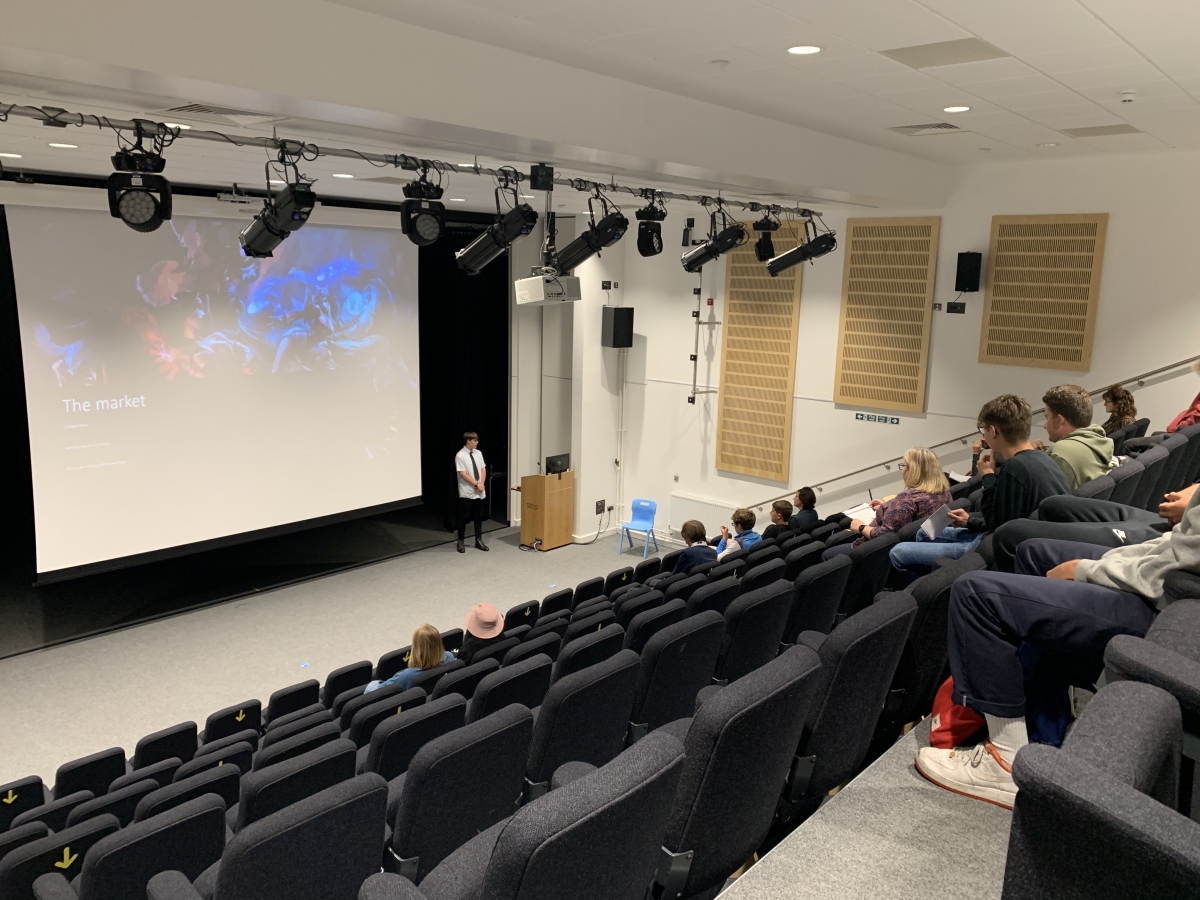 Health & Social Care work-based skills activities
Level 3 Health and Social Care Diploma students took part in a fantastic selection of work-based skills activities.

During the week, students participated in a brilliant session on personal care and antenatal care providing them with the opportunity to learn how to care for a patient who's unable to get out of bed, as well as changing their bedding while the bed is occupied. Students considered how to maintain privacy, respect and dignity, while empowering the patient and encouraging as much independence as possible. Students also learnt about the tests and care of a woman and her baby before and after delivery; practicing taking blood pressure readings on each and learning why these are important in ante-natal care.

Students also participated in an 'armchair aerobics' session where they had a go at the type of exercises that are likely to take place in day centres and care homes for older people with reduced mobility, to keep them active and moving.

Other activities throughout the week included risk assessment and manual handling sessions and a fantastic mental health session with Community Engagement Worker Helen Gardener who talked to students about 'Keeping a healthy mind and exploring our thoughts' which included activities to help avoid stress, manage anxiety, and conflicting pressures.

Students were also visited by Dementia Friends Trainer Debbie who talked to students about taking part in, and committing to becoming a Dementia Friend for the Alzheimer's Society.