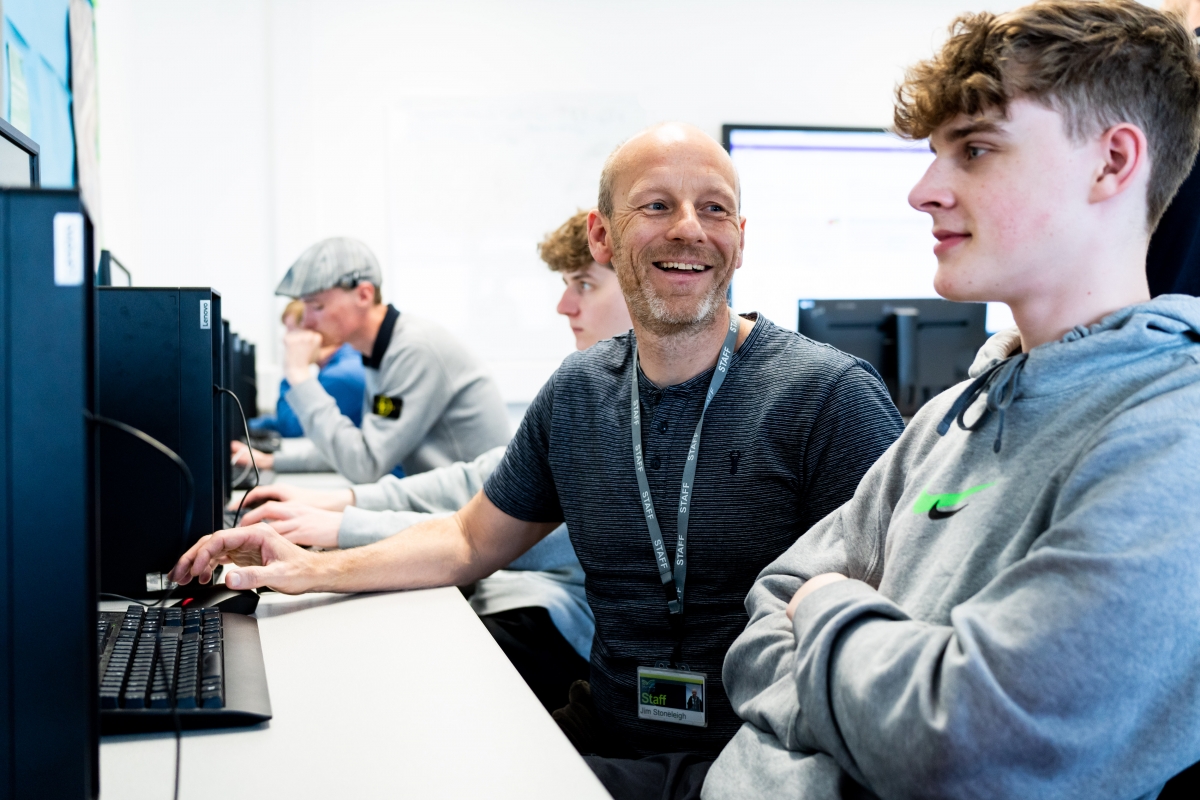 Welcome to Computing, IT and Maths!
We hope that you can get a real sense of what studying in our department is like by traveling around our virtual 3D tours, watching the Subject Spotlight videos and dropping in to our online chat rooms (during virtual open events only).
Tour Virtual Campus

Watch Subject Spotlight Videos

Chat Live (during Virtual Open Events)
Why choose Computing, IT & Maths
Whether specialising in a Level 3 IT Diploma or studying an Extended Certificate in IT or A Levels in Computer Science or Maths alongside other subjects, you will learn the skills required to excel in academia and future employment. With an enjoyment of problem-solving, you will be keen to develop your analytical skills.

To enjoy success in the world of computing and IT, you will add to your technical skills with teamwork and communication.

Maths forms the foundations of many modern industries, such as technology, computing, finance, engineering, construction, science and medicine.

You will also gain excellent applicable and transferable knowledge that is desired in a wide range of professional roles.

Hear why our students chose to study Computing & IT courses and their experiences below and read our Computing & IT myth-busting blog.
Visit our Computing, IT and Maths departments to discover where you'll be learning.
Computing & IT department (Temple)

Maths department (Garrow)
To visit an online chat room, click on the 'Visit Room' button next to the list of courses below.

When you enter an online chat room, please let the team know what course you are interested in and someone will reply as soon as possible.

Using a mobile or tablet device?
To access the live online chat from a mobile or a tablet device, you will need to have installed and opened the free Microsoft Teams App from your phone's App store before entering a chat room. Alternatively, you can access the room from a desktop computer by choosing the 'watch on web instead' option when the new browser window opens.

PLEASE NOTE: Our online chat rooms will only be available during our Virtual Open Events.


Computing & IT

A Level Computer Science

L3 Information Technology Diploma

Extended Certificate in IT

Digital Academy

Visit Room


Maths

A Level Mathematics

A Level Further Mathematics

Core Maths

Visit Room
Our Subject Spotlights introduce you to our wonderful lecturers who have created these videos to show the wide range of courses you can study at Callywith, what you can expect to learn and to give you an idea of what life as a student at our Outstanding college is like.

A Level Computer Science

If you enjoy learning about the fundamental principles and concepts behind computer science and how software is engineered, then A Level Computer Science will stretch and challenge you.

Download Course Information


Level 3 IT

If you enjoy learning about computers and information technology, then the Level 3 IT Diploma will be of great interest to you. Building on your existing knowledge, this course will stretch and challenge your IT knowledge and skills. This course will cover a range of areas related to how Information Technology continues to develop and integrate into a variety of industries and businesses. You will be introduced to industry standard software, programming languages and workflows to explore practical scenarios surrounding the use of IT.

Download course information

Level 3 Extended Certificate in IT
The Level 3 National Extended Certificate in Information Technology is equivalent in size to one A Level. It is designed for learners who are interested in an introduction to the study of creating IT systems to manage and share information alongside other fields of study, with a view to progressing to a wide range of higher education courses, not necessarily in IT.

Download Course Information

A Level Mathematics / Further Mathematics


Jobs in this sector
Take a look at progression opportunities including higher education study options, careers and labour market information for courses in this sector below.
Jobs in Computing & IT
Jobs in Maths