National Apprenticeship Week 2023 top tips (Blog)
6-12 February 2023 is National Apprenticeship Week. The week is a celebration on how apprenticeships are a great pathway to career success and a viable alternative to university.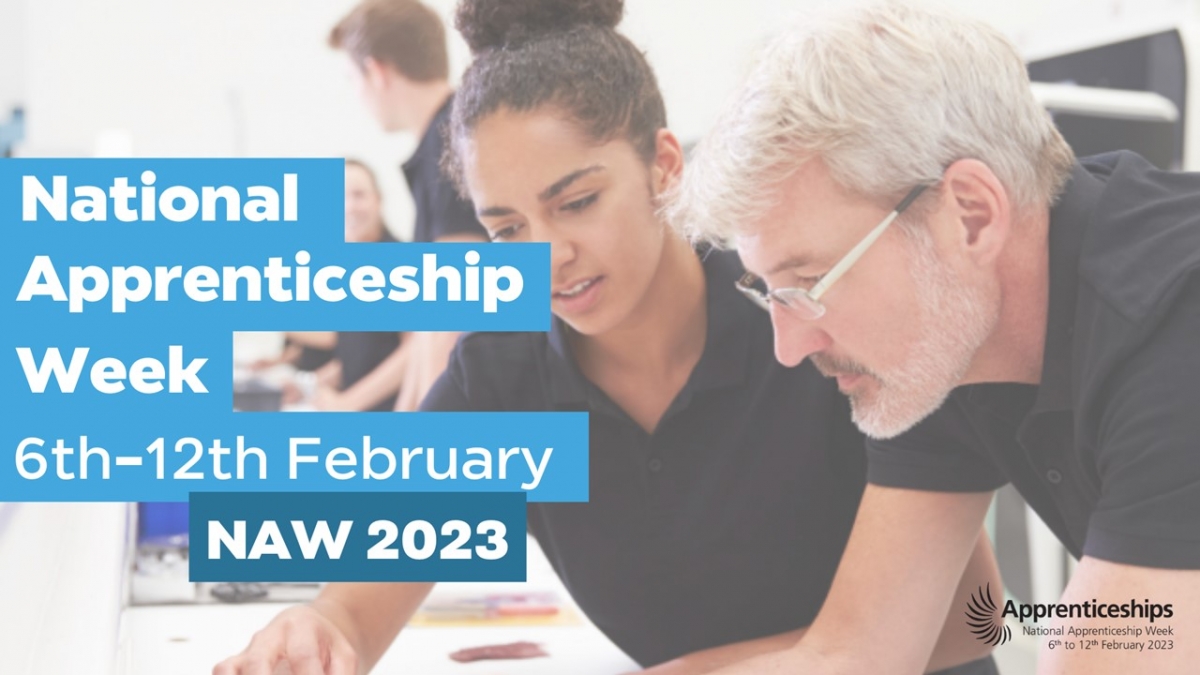 Apprenticeships provide a fantastic opportunity to work with a local employer to gain real and valuable work experience, as well as the theory to develop employability skills and prospects for the future.
If you're considering an apprenticeship after college, take a look at our top tips and advice below!
Apprenticeship or university?
Deciding what to do when you leave college is tough. Do you go to university and get a degree or gain an apprenticeship and earn while you learn? There are of course other options, such as employment and gap year, however, university and apprenticeships remain two of the most common choices. Take a look at the main benefits of each below:
​Going to university - you'll be able to pick from thousands of courses, a degree will leave your career more open-ended in terms of future opportunities, you'll gain your independence by living away from home and you'll acquire a whole range of soft skills, transferrable to any job role.

​Doing an apprenticeship - you'll immediately enter the world of work and gain valuable on-the-job experience while earning money as you study. You won't pay tuition fees and you'll make industry contacts from day one. The number of national vacancies for higher and degree apprenticeships has increased significantly in the last year, with several major employers advertising for the first time and a number of existing apprentice employers expanding the number of apprenticeships they are offering.
Watch this video about the pros and cons: Apprenticeships vs University 2019 - YouTube

Take a look at the video below for an Introduction to Apprenticeships from Callywith Careers Advisors David Sellars and Sue Willmott.

Which industry?
With over 1,500 apprenticeship job roles available, there is a wide range of industries and sectors involved – with options in anything from business, engineering, and boat building, to veterinary nursing, technical theatre, and environmental conservation.
Take a look at the sectors and industries offering apprenticeships, level of apprenticeships on offer and examples of what apprenticeships are available. New apprenticeships are in development all the time, with more universities, colleges,and different employers offering apprenticeships in the future, so keep looking! You can also find more here.
If you're unsure of what type of industry you'd like to work in, why not try a multiple choice online assessment to discover your skills and careers here: Skills assessment | National Careers Service
Finding an Apprenticeship
Don't wait for the deadline to submit your application
Some employers and recruiters may decide to close recruitment windows early if they feel that they have received a sufficient volume of applications. Competition for jobs is likely to be increasing, so you should try to submit your application as soon as you are ready, rather than waiting for the deadline. Don't rush it though – it's important that you check your spelling and grammar and take time to get it right.
Keep your options open
One of the best ways to be resilient when plans change, is to have other options lined up. When considering applying for an apprenticeship, it is always useful to explore multiple options simultaneously at both post-16 and post-18. The range of options is now vast and really exciting! It is important that as well as the more traditional options, you also make sure that you understand apprenticeships, traineeships, T Levels and FE College.
Draft a CV
A Curriculum Vitae (CV) is a key document that can help you get a part or full-time job. There are many different CV designs online you can use. You can also use one of our templates below to draft your CV. Remember to regularly review and update your CV as you gain qualifications, work experience and develop new interests and hobbies. The personal profile should be amended if you decide to apply for a different type of job. Tweak your skills, aptitudes and interests to focus on that particular job role.

CV TEMPLATE Level 2
CV TEMPLATE Level 3
Sign up to 'Get My First Job'
To start an Apprenticeship in September 2023, we would recommend you sign up to Get My First Job from March 2023 when vacancies will begin to become available. Here you can set up a profile and upload your CV and search and apply for Apprenticeship vacancies.
Make use of your support networks
Whatever path you decide to follow, you will want to know that you've given it your best shot. If you're struggling or not enjoying it, or change your mind, don't be afraid to ask for help. Make use of the support networks around you. At college people that can help you are; your personal tutor, lectures and PTL, and our careers and Student Services teams. There is also the National Careers Service who offer free information, advice and guidance.
Remember that if you need careers and apprenticeship advice, bookable one-to-one advice sessions are available by visiting the Callywith Careers Hub and completing a booking form or by contacting careers@callywith.ac.uk for more information.
Apprenticeship advice video
To find out more about apprenticeships, take a look at the video below from Tammy McDermott - Apprenticeship Recruitment Coordinator at Truro and Penwith College covering what apprenticeships are, who they are for, how to apply and the apprenticeship programmes available at Truro and Penwith College.
Case Studies
Callywith Alumni Stories
Former Callywith students talk about their experience of doing an apprenticeship after completing their studies at Callywith College and why they chose this route.

Anna - Paralegal Apprenticeship, International Law firm
Caitlin - Finance Apprenticeship, Saputo Dairy UK
Darcy - Mental Health Nursing Apprenticeship, Cornwall Partnership NHS Foundation Trust
Tristan - Level 6 Digital and Technology Solutions Apprenticeship, Rowe IT
Jess - Level 4 Construction Management Apprenticeship with BAM Construct
Sam - Level 3 Information Communication Technician Apprenticeship, Devon Air Ambulance
Sam - Level 3 Support Technician Apprenticeship, King's College Service Centre
Amy - Management Apprenticeship, Aldi
Harry - Level 3 Multi Skilled Engineering Apprenticeship, Saputo Dairy UK
Further information